Arnold Plaza making progress toward veterans' resource center
Originally Published: November 13, 2018 6:28 p.m.
KINGMAN – The Arnold Plaza rehabilitation project is moving along with wiring for the air conditioning system put in this week and $132,000 of roofing repairs scheduled for next week, the leader of the organization behind the project said Tuesday.
Pat Farrell, president of Jerry Ambrose Veterans Council, said he already has funding for the roof, and the next big project is the fire sprinkler system, estimated at more than $200,000.
Building permits are coming this week for new plumbing and other work, including installation of windows. The work is put out to bid to local contractors, and A-2-Z Roofing won the roofing contract.
The project, dubbed Operation 6, is expected to be completed by July 4, 2019, but Farrell admitted he's the "eternal optimist."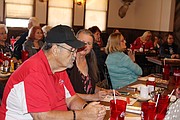 The 25,000-square-foot Arnold Plaza at 315 E. Oak St. was purchased from Mohave County last year for $58,000 following asbestos abatement. The work was funded by a $120,000 Brownfield grant administered by Arizona Department of Environmental Quality.
Speaking to more than 30 people at Kingman Republican Women's monthly meeting at the Dam Bar restaurant, Farrell said Arnold Plaza will become a resource center and transitional home for veterans with 25 rooms, operated 24 hours a day, seven days a week and 365 days a year.
For the most part, military veterans transition into successful citizens, with 97 percent of them contributing to the community in positive ways. It's the 3 percent left behind that will be coming to Arnold Plaza.
"You go into the military and they train you to kill people and expect you to turn it off when you leave," Farrell said. "We're the bridge where people can contribute to society instead of taking from it."
Some veterans don't want help and prefer to remain homeless, he added. They won't be part of the program.
Operation 6 will be a success-based program, but not the 90-day "cookie-cutter" rehabilitation program run by the Veterans Administration, Farrell said.
That leads to the high rate of veteran suicides like the two that occurred in Mohave County in the last two weeks, he said. Veterans at Operation 6 will work if they can and have a couple bucks in their pocket when they leave, he told the Kingman Republican Women.
The resource center will take the first 25 veterans who sign up, then put together a waiting list with a case manager assessing their needs.
"We don't question their backgrounds," Farrell said. "Who hasn't made a mistake? There were 17 people at the Stand Down who found out they weren't wanted by the law."
The Tri-State Veterans Stand Down was started by Jerry Ambrose Veterans Council in 2013, providing resources and information for at-risk veterans. It's held in Bullhead City because of favorable weather, Farrell said.
About 270 veterans were served at the 2018 Stand Down, a decrease of about 120 from previous years. That's a significant drop in homelessness and lower demand for services, Farrell noted. There was, however, a significant increase in PTSD cases.
Jerry Ambrose Veterans Council is a nonprofit 501(c) organization that runs on grants and donations, like the $500 that the Kingman Republican Women donated at Tuesday's meeting.
More like this story
SUBMIT FEEDBACK
Click Below to:
This Week's Circulars
To view money-saving ads
For as little as $3.49*