Nucor celebrates safety certification at Kingman steel plant
Originally Published: November 13, 2018 6:26 p.m.
KINGMAN – Government safety officials and executives from Nucor Steel celebrated an award from the Arizona Department of Occupational Safety and Health on Oct. 19.
Department officials conducted an intensive safety audit of Nucor's steel mill southwest of Kingman on Aug. 23, and told plant manager Joey Loosle that the mill passed the audit and Nucor would be awarded Voluntary Protection Program Star Certification.
The program, started by OSHA and overseen by ADOSH, recognizes companies that achieve exemplary safety and health standards. They have company policies and procedures that allow employees to make it home safely every day.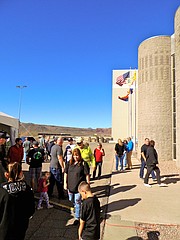 Nucor is one of two facilities in Mohave County and 46 facilities in the state to receive such certification, he noted.
"Make no mistake, earning this certification is only the beginning," Loosle said. "We have not reached a goal, we are continuing in the process of keeping ourselves, our families and everyone associated with our mill safe every day."
Nucor takes safety to the extreme, and the safety culture extends beyond the borders of the mill, he added.
Those attending the celebration included Brandon Stowell of ADOSH; Matt Contorelli of Arizona Commerce Authority; Mohave County Supervisor Jean Bishop; Dave Sumoski, executive vice president of Nucor Steel; Dan Needham, vice president and general manager of Nucor Steel; and Doug Adams, former plant manager in Kingman, now in Connecticut.
The Kingman mill, part of Charlotte, N.C.-based Nucor Corp., began production with a small crew in December 2008, and produced its 1 millionth ton of steel coil in April.
More like this story
SUBMIT FEEDBACK
Click Below to:
This Week's Circulars
To view money-saving ads
For as little as $3.49*