Bowling leagues foster friendly competition, chance to refine your game
Originally Published: November 14, 2018 7:27 p.m.
Take our Reader Poll: When was the last time you went bowling?
KINGMAN – Word spread from lane to lane when Alex Francois went deep into the frames of a perfect game on Nov. 6, bowling in the Tuesday night men's league at Cerbat Lanes.
Another thunderous roll, another explosion of pins and another round of high-fives from his teammates.
Francois, who carries a sparkling 221 average, brought together that rare combination of luck and skill that night to record the second perfect game of his life. His 300 score was high scratch game for the week and his 728 total was high scratch series.
He credited his friend, Bill, for cleaning his bowling ball and helping it tread longer on the lane.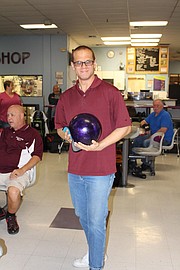 "I got a lot of friends here, great friends," Francois said Tuesday during warm-ups for the weekly league action.
Friendship seems to be the common thread among some 300 league bowlers at Cerbat Lanes, the only bowling alley in Kingman, where the men bowl on Tuesday, women on Wednesday and mixed teams on Thursday and Sunday.
The senior league is Monday and Wednesday mornings, and the junior league is Saturday morning.
It's a great way to make new friends, said Robert Ostler, who was new to town and bowling with his wife, Juli, at Cerbat Lanes when one of the league's team captains came up and asked if he was interested in joining the team. They're now in third place.
Bowling provides a fun, social activity in a town starving for entertainment, said Robert Caudle, general manager at Cerbat Lanes and a league bowler with a respectable 191 average.
"It's mainly to have fun and some competition," Caudle said. "You can win some money in the end, league money, and sweeper money depending on how well you bowled on your last night of bowling."
League bowlers pay a $25 sanction fee to the U.S. Bowling Congress, and $15 to $20 a night, depending on the league. Seniors and juniors get a discount, and men pay a little more to build up the pot.
"This is a really good league," bowler Chuck Stuart said. "We've got some good bowlers and some good people."
"This is one of the highest leagues, one of the highest-scoring. Most of the guys are over 200 (average)," added Terry Keene, a second-year league bowler. "We've got a lot of people here who'll teach you what you need to know if you listen."
Caudle said there's a lot more to the sport than picking up a ball and hurling it down the lane. There's ball speed, foot position and lane conditions, plus various techniques for approach and release.
"In general, the people that come into every bowling center I've been in, everybody's family and we all have fun, everyone has a good time," said the general manager who came to Kingman from Riverside Lanes in Laughlin a little more than a year ago.
"Plus it's indoors. You're not outside in the heat. That's one of the main points with the kids."
Cerbat Lanes has 20 to 30 junior bowlers in the league, depending on other youth sports seasons, Caudle said. Kids have an opportunity for scholarships and advancing to collegiate bowling.
Interest in the sport of bowling is waning, with participation dropping to 45.5 million in 2017, compared with more than 61 million in 2007, according to Statista.com.
Caudle is disappointed that bowling hasn't been accepted as an Olympic sport. "Surfing beat us out at the Olympics," he said.
Caudle blames the USBC for "dragging its feet" in promoting and marketing the sport to America's youth through social media. It needs to be promoted as a serious sport, not just a fun thing to do on a date or to go drinking with your buddies, he said.
Anyone interested in filling a vacant or alternate spot in the leagues can call Caudle at 928-692-1818. More league information can be found at www.cerbatlanesaz.com.
More like this story
SUBMIT FEEDBACK
Click Below to:
This Week's Circulars
To view money-saving ads
For as little as $3.49*