Limited fentanyl activity in Kingman, no deaths reported

Originally Published: November 17, 2018 6:26 p.m.
KINGMAN – Across the state there have been more cases of fentanyl overdoses or fentanyl seizures.
Fentanyl is an opioid used as a painkiller and anesthetic. Because of the strong opioid properties, it makes it an attractive drug for heroin users and prescription opioid users. The drug comes as counterfeit pills, patches, powder or mixed with heroin.
In Prescott, two 19-year-old teenagers died from an accidental overdose of illicit drugs and fentanyl intoxication, the Daily Courier reported Friday.
According to Kingman Police Chief Robert DeVries, there hasn't been any fentanyl-related deaths reported, but the drug is in the community.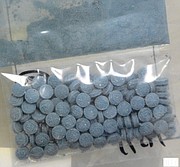 Anita Mortensen, spokeswoman for Mohave County Sheriff's Office, said there has been limited fentanyl activity in Mohave County. She added that fentanyl is traveling through the area to another destination.
"Most recently one of our detectives conducted an investigation that resulted in the seizure of approximately 30 fentanyl patches," Mortensen said.
Fentanyl is found in heroin and meth. It's a highly toxic and takes a few small granules to be fatal if inhaled and absorbed through the skin. DeVries said those manufacturing the drugs don't follow "quality control" so, many of the drugs are mixed together.
"Families should be looking out for the patches as they are more readily available and easy to over-medicate and abuse when not used as prescribed," Mortensen said.
More like this story
SUBMIT FEEDBACK
Click Below to:
This Week's Circulars
To view money-saving ads
For as little as $3.49*