Cattle causing problems on private property, rural roadways
Originally Published: November 20, 2018 7:25 p.m.
KINGMAN – One of the great advantages of living in Mohave County is the ability to enjoy wide-open spaces and escape from block walls and fences that separate you from your neighbor's property.
What some home buyers in rural areas of the county failed to consider is open-range cattle coming onto their land if it's not fenced and completely enclosed, eating their plants and damaging their property like the woman in Golden Valley who had her above-ground pool trampled.
Then there's the danger of cows wandering onto high-traffic roads such as Stockton Hill Road, Pierce Ferry Road and State Route 68.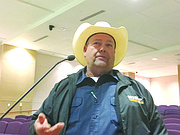 Driving tips to avoid hitting cattle
Mohave County has thousands of acres of open grazing that allows cattle to cross roads, which means motorists should take extra precautions in those areas. Here are a few tips to avoid hitting a cow on the road:
Be mindful of your surroundings. If you see a "Cattle Crossing" sign or cattle guards in the road, expect to see animals in the area.
Drive the speed limit. Rancher Jack Fuller noted that the speed limit on North Stockton Hill Road is 45 mph at night, but most people are going 65 mph.
Slow down on dirt roads. That's where you're more likely to encounter livestock, and speeding vehicles can scare them into jumping the fence.
Be extra careful at night. That's when most of the cattle are hit and almost always by speeding motorists. If you see eyes in the road, put on your brakes.
Put on your high-beams. Especially on dirt roads, the brighter headlights will spot cattle further down the road.
About 10 cows have been struck and killed in the Golden Valley and Bullhead City areas in recent months, Mohave County Supervisor Gary Watson said Monday at a town hall meeting to address citizens' concerns about open-range ranching.
Watson met with officials from the Bureau of Land Management, which leases large tracts of public land to ranchers for grazing, and said there are a number of factors creating the "perfect storm" for an increase in accidents involving cattle.
"We know there are problems out there," Watson said. "You can see there's not a lot of forage for the cattle and they're in competition with burros. That's why the BLM grazing permits are so large."
The wild burro population has increased from 200 to more than 800, or about six burros for every cow on the BLM grazing permit, and they're all competing for the same forage, Watson added.
Part of the problem is people putting out water for wildlife, which naturally attracts cows. Another problem is ATV riders and trespassers cutting fences. "That's always a problem," Watson said.
Mohave County has a long history of ranching, Supervisor Jean Bishop told about 50 people attending the town hall she arranged at the County Administration Building. Bishop said she remembers cutting her finger as a child closing a barbed-wire gate on her family's ranch.
The audience submitted questions to a panel that included ranchers, county officials, Sen. Sonny Borrelli and representatives from Arizona Department of Transportation and Arizona Game and Fish Department.
"When the public interferes with our ranch management, it causes all kinds of problems," said Anita Waite, who owns the 70,000-acre Cane Springs Ranch off Blake Ranch Road. "The cows are not where they're supposed to be. The community needs to work with ranchers, and not be cutting fences and giving water to the cows. The rancher really doesn't need the help of the public."
Velma Hope of Arizona Game and Fish said there's no law against putting out water and food for wildlife, but it's highly discouraged. The animals lose their fear of humans and can spread disease, she said.
County attorney Ryan Esplin gave a legal overview of the "no-fence district" that places the onus on the livestock owner to keep his animals off private land.
The only "no-fence" location in Mohave County is in the Mohave Valley Irrigation and Drainage District, where the livestock owner is responsible for damage if his animals get loose.
For the rest of Mohave County, it's up to landowners to keep animals out, Esplin said.
"If you have a fence, you can go after the owner, but if not, you're … well, I can't say it," the attorney said. There are also legal technicalities about construction of a fence strong enough to deter livestock.
Alvin Stump, engineer with Arizona Department of Transportation, said ADOT prefers to fence off roadways, but the challenge in Golden Valley is the mix of commercial and residential along Highway 68.
"You can't just put a fence across all the driveways and put in gates and expect them to stay closed. If there's no back fencing, all we can do is put up signs for the animals," Stump said.
Grand Canyon West attracts a million visitors a year from throughout the world, and even though there are plenty of warning signs about cattle crossing the roads, some drivers are coming from foreign countries and probably can't read those signs, said Wes Bauer, range detective for Mohave County Sheriff's Office.
When a cow is hit, the owner usually drags the carcass off the roadway, said Todd Davidson of the county's Environmental Rural Area Cleanup Enforcement. ERACE then gets a call from the sheriff's office to remove the animal.
"It's a difficult situation for everybody, the ranchers as well as the public," Waite said. "Because if it's not fenced off, it's a recipe for disaster. At my ranch, we have no conflict with cows on the road, so proper fencing is the answer to that problem."
More like this story
SUBMIT FEEDBACK
Click Below to: