Think twice, save a life: KPD receives grant for DUI enforcement

Originally Published: November 25, 2018 6:30 p.m.
The holidays have arrived. Many friends and family come in from out of town and everyone is happy to see each other. A group of people go out to have some fun and maybe a few drinks. A few drinks too many can lead to a driving under the influence, a crash and even a death.
The Kingman Police Department was recently awarded a grant of $20,000 by the Arizona Governor's Office of Highway Safety to be used for overtime and employee related costs to enhance DUI and impaired driving enforcement throughout Kingman now through September.
The grant allows for the department to provide additional officers for DUI enforcement during times there's an increase of impaired drivers, said Jennifer Sochocki, KPD spokeswoman.
There could be two to four officers in the DUI patrol. These officers will not be assigned routine calls for service but will be expected to respond to any emergency situations. KPD and members of the Western Arizona DUI Taskforce will be aggressive in enforcement every day of the week now until New Year's Day looking for impaired drivers.
"Officers are always expected to be aggressive in DUI enforcement year round," Sochocki said. "However, during the holidays and special events we know that there is an increase in celebrations that often involve alcohol."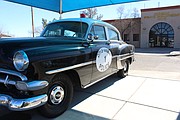 According to Arizona Department of Transportation in 2017 statewide, Thanksgiving Day and New Year's Day weekend there were five alcohol related fatal crashes and Christmas Day weekend there were three alcohol related fatal crashes.
Why is DUI enforcement always publicized? Because the intention of law enforcement is to warn the community to think before they drive impaired.
In 2017 between October and Dec. 31, KPD officers made 31 DUI arrests. This year between Oct. 1 and Nov. 20, there has already been 31 DUI incidents, Sochocki said.
According to the Arizona Department of Transportation in 2017, Mohave County had a total of 12 fatal crashes resulting in 13 killed and 137 injured in 184 alcohol related crashes. Statewide, 32 percent of fatalities were alcohol related, 320 people killed and 3,095 people injured.
Getting arrested for a DUI can be pricey. In 2017 there was over $2 million of economic loss due to alcohol related crashes in Arizona. For the individuals involved penalties include mandatory jail time, thousands of dollars in fines and court fees, suspended driver's license, vehicle impoundment and other expenses, like human life.
KPD's goals are to prevent or discourage impaired driving, and to be aggressive in education and enforcement.
"Some people might be influenced to designate a sober driver because of the publicity, while others might be influenced to designate a sober driver or take a cab because of the fear of getting caught and arrested," Sochocki said.
Anyone who suspects someone of driving impaired should call a local law enforcement agency to report it. KPD encourages people to plan ahead for a sober ride. There are always options such as public transportation, taxis, Uber, Lyft or a sober friend. 
More like this story
SUBMIT FEEDBACK
Click Below to: