Blanco murder trial postponed until January for logistical reasons
Originally Published: November 26, 2018 7:24 p.m.
KINGMAN – The jury trial for accused murderer Alfredo Gerardo Blanco has been continued until Jan. 15 due to logistical factors, attorney Bob Moon said Monday.
Blanco, 62, charged with the first-degree murder of real estate investor Sidney Cranston Jr., was scheduled to go to trial today after a mistrial was declared in September.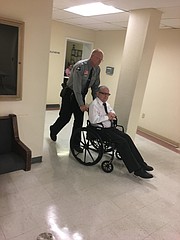 Mohave County Superior Court Judge Rick Lambert approved the order to continue the trial on Oct. 19 after both sides agreed to postpone the Nov. 27 date, Moon said.
Lambert declared a mistrial on the third day of Blanco's trial on Sept. 27 when witness and co-defendant William Sanders made a statement during his testimony that drew an objection from defense attorney Robin Puchek.
After a short conference with the attorneys in Lambert's chambers, the judge stated his findings to the jury and declared a mistrial.
Sanders, who pleaded guilty to concealment of a dead body and tampering with evidence in exchange for his testimony, was recounting a telephone conversation he had with Blanco following an FBI interview on Jan. 6, 2017, when he made the statement.
Blanco worked as a property manager and handyman for Cranston, who owned several rental properties around Kingman.
He's accused of killing Cranston on June 16, 2015, and burying his body on a ranch east of Kingman. Cranston was missing for 19 months before Sanders led FBI agents to the body in January 2017.
More like this story
SUBMIT FEEDBACK
Click Below to:
This Week's Circulars
To view money-saving ads
For as little as $3.49*