Rector murder trial still on track for April, hearing delayed one week
Originally Published: November 26, 2018 7:30 p.m.
KINGMAN – It's been more than four years since Justin James Rector allegedly kidnapped, raped, strangled and buried the body of 8-year-old Bella Grogan-Cannella in a shallow grave in Bullhead City, so putting off a status conference for another week is barely a bump in the road for a case that has racked up close to $1 million in public defender costs.
In a closed conference room Monday, Mohave County Superior Court Judge Lee Jantzen continued Rector's next hearing until 11 a.m. Dec. 4.
Rector's first-degree murder trial is scheduled for April 29. He's being represented by Julia Cassels, the third lawyer to be assigned the case after Rector had a conflict of interest with his previous lawyers.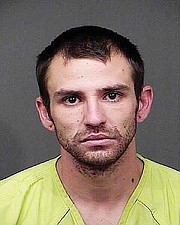 Prosecuting attorney Greg McPhillips has urged Jantzen to move forward with the trial in the interests of the girl's family. He has blamed delays in the case on Cassels for not being cooperative with interviews.
"To this day, the defense has not disclosed to the State names and addresses of witnesses whom the defendant intends to call at trial," McPhillips wrote in a Nov. 15 court filing. "No expert witnesses have been disclosed. No evidence has been disclosed."
Cassels filed a motion for stay of proceedings on Nov. 14, which implies Rector hasn't retained a defense expert since the last hearing, McPhillips added. The defendant is delaying the trial by refusing to retain experts.
"Defendant cannot be allowed to obtain a continuance of the current trial date by intentionally running the clock," McPhillips said.
At a hearing in July, Jantzen said he would be getting "more aggressive" in bringing Rector to trial. He asked McPhillips and Cassels to communicate with each other at least once a week via email or phone.
"It's certainly frustrating from everyone's perspective," the judge said in July. "This thing's been drawn out for four years since the date of the incident."
Rector was living with Grogan-Cannella's mother and stepfather in September 2014 when the girl came up missing and was later found in a grave near Walmart.
The nature of Rector's case changed drastically when prosecutors chose not to seek the death penalty. Cassels lost part of her defense team and hired a paralegal at her own expense to help with disclosure, she said.
Jantzen authorized an additional $2,500 for indigent defense services on Rector's behalf Nov. 13.
More like this story
SUBMIT FEEDBACK
Click Below to: