Kingman turquoise valued around the world for its quality, colors
Originally Published: November 29, 2018 7:27 p.m.
KINGMAN – Aside from a mention of this quaint desert town in the lyrics of Bobby Troup's song, "(Get Your Kicks on) Route 66," and part of the highway being named for a hometown bit actor in old Western movies, Kingman's real claim to fame lies in blue-streaked rock that comes out of Mineral Park.
You can travel anywhere in the world and find someone who knows about Kingman turquoise, said Marty Colbaugh, who owns Colbaugh Processing and sells turquoise in the SoHi enclave of Golden Valley.
He has buyers in Germany, China, Japan and South America, all clamoring for a piece of the gemstone that sells for $25 to $5,000 a pound, depending on quality and color.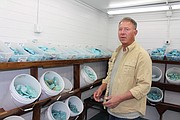 "A lot of the mineral museums in Europe, a lot of it is Kingman turquoise," said Colbaugh, whose grandfather, Chuck Colbaugh, established Colbaugh Processing in the 1960s.
Kingman turquoise is famous for colors ranging from clear blue and green to matrixes of black and brown, and the quantity of turquoise mined at Mineral Park makes Kingman the world's largest producer.
Mineral Park, about 14 miles northwest of Kingman, is the only fully operational turquoise mine in the United States, Colbaugh said, though smaller mines can be found around Arizona, Nevada, New Mexico and Colorado. Turquoise is also mined in Iran, Afghanistan, China, Australia, Chile and Mexico.
Colbaugh still owns the mining rights at Mineral Park, which used to be the Duval copper mine. He employs about 40 people.
"What makes Kingman so important to the world market is we're the last operating mine in the United States," he said. "That's not to say there's not some mining going on in Nevada, but we're the last one left to mine and cut the stones."
The Sleeping Beauty Mine near Globe was one of the last production turquoise mines and closed in 2012.
Most people have no concept of what goes on at the processing plant that can be seen from U.S. Highway 93.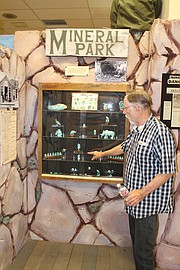 "I just say we play with rocks," Colbaugh said. "People come out and look at what we do and one sentence comes out: 'Oh my God, I had no idea.'"
Processing and stabilizing the turquoise can take two weeks to three months from the time the rock is brought from the Mineral Park mine to the time it's ready for sale.
It involves putting the mineral through a water bath, drying it out, separating it by size and color and grading it.
Colbaugh Processing operates out of two large buildings equipped with hundreds of thousands of dollars in machinery used to wash, cut and polish the turquoise. Colbaugh learned the business from his grandfather, starting to work for him at age 17.
"What he told me is there was never a rush for turquoise until the Kingman mine opened," he said during a tour of the facility. "For the first time in history enough turquoise was available to start a world market in the 1960s and '70s."
Mineral Park had a 40-foot thick vein of turquoise, one of the purest ever, and the copper mine was trying to get rid of it.
"Every miner was taking it home," Colbaugh said. "Hundreds of tons, I can't even comprehend how much. Gas stations and grocery stores were taking turquoise as payment. Miners were getting $2 an hour and that was a good-paying job back then."
Turquoise is formed by a chemical reaction that occurs when water containing minerals such as copper seeps through the rock and turns it into a colored vein.
It was the first stone to be used as a gem, according to the Library of Congress. It's the December birthstone and one of the few stones mentioned in the Bible, Colbaugh noted.
It purportedly has healing properties, dispels negative energy and is associated with protection, love, friendship, peace, serenity and wisdom.
Colbaugh related several stories of customers who called him with unbelievable life events that happened while in possession of turquoise.
A lot of people don't realize the value of turquoise around the world, and they think they're picking it up cheap at tribal jewelry stores, Colbaugh said.
Less than 1 percent of his turquoise is sold to Native Americans, he said. About 10,000 people make their living from turquoise in the United States, either mining it, cutting it, creating jewelry and other decorations. It's used for belt buckles and knife handles. Markets for turquoise exist all over the world, Colbaugh mentioned.
"There's people who spend two or three nights here until we're open," he said. "We've had so many people who said they saw the sign and spent the night so they could see us the next morning."
More like this story
SUBMIT FEEDBACK
Click Below to:
This Week's Circulars
To view money-saving ads
For as little as $3.49*