New bakery: Cookies, pies, and more coming to downtown

Originally Published: November 29, 2018 7:25 p.m.
KINGMAN – There will soon be the smell of freshly baked bread, cookies, and other baked goods wafting out from downtown.
Christina Schauer, a Kingman resident for nine years, is opening Route 66 Bakery at 713 E. Andy Devine Ave.
Prior to opening up the new shop, she has done business from home and in businesses like Canada Mart, 210 Andy Devine Ave., which sold her baked goods. She has also sold her treats at the Kingman Farmer's Market during the summer.
Schauer has been baking since she was 7 years old and enjoys making a mess, something flavorful and beautiful.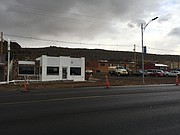 "I enjoy seeing the smiles of people who eat it," she said.
Schauer said she is excited to be part of downtown because it's an up and coming area of Kingman where everyone wants to go.

"We love our community and sharing the sugar," she said.
Some of the treats she has to offer include several breads, wedding cakes, cookies, a Jack Daniel's bread pudding, pies and more.
Schauer said since obtaining a commercial location, she and her partner, Crystal Ricca, have expanded their kitchen tools and their menu.
"There's more in store," Schauer said.
The opening date still isn't set, but Schauer did say by the end of this year construction would be completed and hopes to open early next year.
More like this story
SUBMIT FEEDBACK
Click Below to: