Three generations of rodeo royalty: Andy Devine Days Rodeo Queen mother, grandmother won title prior

Originally Published: October 2, 2018 6 a.m.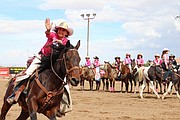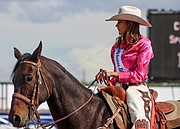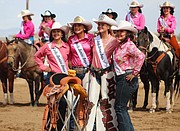 Saddling up her noble steed Macho, getting her cowboy boots dirty, riding with speed, and making sure her equine knowledge is up to date all while keeping her crown shiny is all in a day's work for a queen.
Adison Leo won Rodeo Queen during the 34th annual Andy Devine Days Rodeo, which was held Saturday and Sunday. She comes from a lineage of rodeo royalty. Her mother, Tiffany Leo, and grandmother, Sue Olson, have each been rodeo royalty in the past.
Knowing the women in her family have carried the title before her made winning it much more special.
"I feel very honored to carry on the tradition that has gone throughout my family," Adison said.
Tiffany won the title in 1991. Sue said she won it "100 years ago" and is very proud to see her daughter and granddaughter interested in rodeo and carry it on.
Although Adison has previously won Teen Queen, she has been dreaming of becoming Rodeo Queen since she was a little girl. Her mother said when Adison was little she would follow her around and loved every second of the rodeo queen experience.
When her name was called Adison felt a big rush of excitement. Her grandmother and mother were just as excited as she won the title.
"For her to take home the title it was just awesome … I knew she would do it, well, because it's in her blood," Tiffany said.
From generation to generation things may change, but for these three generations of women, the love of rodeo and representing their community stays consistent.
When Sue carried the title, she was pleased and happy to represent her community and the rodeo. Tiffany was excited to go around the state and represent the sport she grew up loving and still does. Adison's feelings are mutual.
"I'm excited to travel around the state of Arizona, represent the Andy Devine Days Rodeo and Kingman," she said.
Now that Adison has won the title she has the opportunity to travel to other rodeos in the state. Tiffany said that maybe she will also go for other titles in the rodeo world like Miss Turquoise Circuit and Miss Arizona Rodeo.
Adison has her family supporting her all the way. She hopes to stay involved in rodeo and go to college to study something within the western world.
More like this story
SUBMIT FEEDBACK
Click Below to: