Originally Published: October 6, 2018 5:15 p.m.
KINGMAN – Kaden Bean was in unfamiliar water at Centennial Pool.
The Kingman Academy junior made his debut in the 200-yard freestyle and didn't disappoint – narrowly outdueling Lake Havasu's Parker Kross for first place.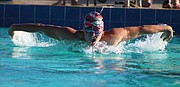 "I could tell I had a lead on him, but at the end he was catching up," Bean said. "So I had to sprint at the end."
Bean's race to the finish paid off as his 2:13.73 was just good enough to get past Kross at 2:14.15. Lee Williams' Chris Marcus followed in third at 2:54.04.
The day got even better for Bean when he swam a 1:12.58 for first in the 100 breaststroke.
Academy's James Scholl added another first-place finish for the Tigers in the 200 Individual Medley (2:39.19), while Katie Niskanen was first in the 100 backstroke at 1:20.26.
While Academy no doubt showed great signs in the meet, head coach Teri Rose still knows there is some room for improvement.
"At this time of year, when we are more than half way through the season, it is hard to continue the grind," Rose said. "The kids can score in dual meets pretty much every time they swim. However, it is hard to post the next personal best. We need to continue to amp up the workouts so we can get closer to those state automatic qualifying times."
Lee Williams is likely thriving for the same goals and showed its drive with a number of top finishes. Jocelyn Graffius led the way for the Lady Vols with a first-place finish in the 50 free at 34.72, followed by teammate Jazmine O'Banion in second (35.49). Lake Havasu had swimmers take third and fourth, while Kingman's Elaura MacCharles (44.84) and Cora Jessup (51.06) finished fifth and sixth, respectively.
The local feel of the meet with just four teams is something that made it easier for Graffius to finish out front.
"I really like smaller meets just because it helps me focus on what I need to do and there's not so much pressure," Graffius said. "And in the smaller meets, I really like it because we're all friendly. We're all local."
But that doesn't mean the swimming gets any easier. Kingman's Angelina Kelly knows that all too well, especially after she finished the 500 free.
"Around lap 11 I get really tired, but I'm really close to finishing," Kelly said. "I tell myself, 'I can do this, I've done it before.'"
Kelly ended up third with an 8:11.71, while Lee Williams' Cheyene Dietrich was fourth.
In addition to her first-place finish in the 100 backstroke, Niskanen finished second in the 100 butterfly at 1:21.08. The Academy freshman admitted that the event wasn't her favorite until she learned how to do the form correctly.
Now she loves it and has much higher aspirations in the sport.
"Honestly, I would love to go to the Olympics," Niskanen said. "That's kind of my dream. When I realized I was pretty good at swim, I thought I could further it and make it a career because I love it so much."
More like this story
SUBMIT FEEDBACK
Click Below to:
This Week's Circulars
To view money-saving ads
For as little as $3.49*