Rancho Santa Fe right-of-way critical to mixed-use development
Originally Published: October 7, 2018 7:02 p.m.
The Rattlesnake Wash interchange off Interstate 40 has been in the planning stages for 30 years, and Bill Lenhart wants to bring it back as a priority for Arizona Department of Transportation by contributing right-of-way land for Rancho Santa Fe Parkway and water and sewer infrastructure.
Lenhart, managing member of Las Vegas-based Sunbelt Development and Realty Partners, invited landowners to an open house Thursday at the Dambar & Steak House to lay out his concept plan for a 700-acre mixed-use development on land he's been holding for a decade.
He presented the plan to City Council on Tuesday, starting with an 85-acre first phase that would consist of 1.1 million square feet of industrial warehouse space.
Sunbelt would dedicate 20 acres for a soccer field, four acres for a police and fire station and 1.25 miles of right way for Rancho Santa Fe Parkway and Airway Avenue.
The project's viability is critically dependent on construction of the Rattlesnake Wash interchange, and that's why Lenhart is trying to get about 30 landowners in the area to contribute to the right of way, which would be about 120 feet wide and a couple miles long.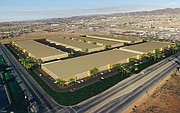 "There might as well be a bridge over a body of water because there are no utilities, no infrastructure that a developer needs," Lenhart said at the open house. "That's the barrier. Developers come out and they see a brown field. You need to be able to give them a timeline. If you move out here, we can have this built in 12 months."
ADOT set a budget between $1.5 million and $2 million for Santa Fe Parkway right of way, and by contributing that land, it will show ADOT that Kingman is serious about building Rattlesnake Wash interchange.
"We're asking for their support," Lenhart said. "We want them to agree to dedicate the right of way in the form of a development agreement, and that's big with ADOT. When you have a big showing from the private sector willing to contribute … the right of way is important to ADOT."
ADOT had Rattlesnake Wash in its five-year plan in 2008, but it fell out and gave way to higher priority projects.
"Every reason they had for saying yes in 2008 still exists and the conditions still exist," said John Timko, consultant for Sunbelt and former Mohave County finance director.
Kingman has enormous potential to expand its manufacturing and distribution industries, Lenhart noted. Businesses are moving out of high-cost markets such as Southern California, evidenced by Phoenix adding 5 million to 7 million square feet of industrial space a year and Las Vegas adding 4 million to 6 million square feet.
Lenhart said he's been encouraged by recent collaboration between the City of Kingman and the private sector in planning the Rancho Santa Fe interchange and parkway that will "unleash Kingman's growth."
The timing to develop Sunbelt's land has never been better, Lenhart said. However, a critical component to successful development in that area is the TPT, or Transaction Privilege Tax, that City Council passed as a funding mechanism. It's going before the citizens as Prop 413.
"As a private developer, we have a very small board and our decision doesn't go out to vote," the land broker said. "We risk the capital and we're willing to do it. We know there's pent-up demand for industrial in Kingman."
With the future Interstate 11, Burlington Northern Santa Fe Railroad and Kingman Airport, Kingman has all the pieces in place to become a leading regional industrial hub in the Southwest, Lenhart added. What it lacks is the "connectors" that developers need.
"Kingman has a check in every box – location, infrastructure, population, affordable business climate, utilities. But this is the barrier," he said.
Lenhart has spent 30 years in real estate brokerage and land development, acquiring his first commercial building in Kingman in 1994. Since 2008, Sunbelt has acquired 27 parcels with the intent to develop. In addition to the 700-acre residential, industrial and retail development, he's got 300 acres pegged for "future development."
More like this story
SUBMIT FEEDBACK
Click Below to: