Sounds of Kingman presents program on Navajo code talkers
Originally Published: October 10, 2018 7:25 p.m.
KINGMAN – Laura Tohe, a member of the Navajo Nation and professor of indigenous literature at Arizona State University, will be featured in the "Our Time, Our History" program to be presented by Sounds of Kingman at 2 p.m. Saturday at Mohave Museum of History and Arts.
Her program is "Armed with Our Language, We Went to War: The Navajo Code Talkers."
It's about a select group of young Navajo men who enlisted in the U.S. Marines during World War II with a unique weapon. Using Navajo language, they devised a secret code that the Japanese never deciphered.
For more than 40 years, a cloak of secrecy hung over the code talkers' service until the code was declassified and they were finally honored for their military contributions in the South Pacific.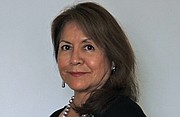 Tohe, who was poet laureate for the Navajo Nation from 2015-2019, has personal knowledge of the code talkers and has conducted extensive research into the subject. She'll discuss the code talkers' cultural background, how the code was developed and used, and how Navajo spiritual beliefs helped deal with the stress of war.
Navajo was chosen as the code language because it's unwritten and extremely complex.
Rick Bitzer, who led the Nation of Patriots tour through Arizona in July, said he was privileged to meet "Mr. Willie," one of the remaining Navajo code talkers who lived in Twin Arrows. It was one of the more "touching" stops on the annual motorcycle tour that carries the U.S. flag through 48 states as a tribute to military veterans, he said.
"I'm prejudice because men like him helped win the war," Bitzer said during an interview about the Patriot Tour. "He was humble and patriotic individual who came back and picked up life where he left off."
About 30 percent of Native Americans are military veterans, compared with 7 percent of the overall U.S. population, Bitzer noted.
Admission to Tohe's presentation is free. The event is made possible with a grant from AZ Humanities, in cooperation with Mohave Museum of History and Arts and the Barthlow family.
Martha Pumers, program coordinator for Sounds of Kingman, reviews the "Our Time, Our History" catalog to come up with potential topics for the series.
"This topic resonated with our members as many have family members who served in World War II and recognized the unique contribution of Arizona's code talkers," Pumers said.
Speakers are provided through AZ Humanities, which receives funding from the National Endowment for the Arts and Arizona Legislature. They speak at schools and community organizations throughout the state, and their expenses are shared by Sounds of Kingman.
SUBMIT FEEDBACK
Click Below to:
More like this story