Originally Published: October 11, 2018 7:30 p.m.
KINGMAN – With all that service members have done and continue to do for the country, when veterans need a hand, the Kingman community is quick to respond.
Black Sheep Ink Tattoo and Piercing will donate its Saturday earnings to the Jerry Ambrose Veterans Council in an effort to support the non-profit organization, its motto of "A hand up, not a handout," and Operation 6 at Arnold Plaza, 312 Oak St.
Operation 6 will provide transitional services to homeless and at-risk military veterans with the goal of reintegrating them back into the community.
Black Sheep has chosen a variety of causes for past fundraisers, including cancer research and fundraising for the Kingman High School band.
"In this case, we really wanted to help impact suicide awareness, just overall letting people know there's understanding out there," said Jason Millin, a veteran and piercer at Black Sheep.
Saturday's proceeds will go to JAVC, but the event is geared toward all suicide awareness, not just veteran suicides.
"The money's going to the JAVC, but really it's about awareness all the way around," Millin said. "We're trying to impact everybody."
According to the American Foundation for Suicide Prevention, on average, one person dies from suicide every seven hours in Arizona. It's the second leading cause of death for the 15-34 age range.
In Mohave County, the age-adjusted death rate for suicide is 29.5 per 100,000 population, while the rate for Arizona is 17 per 100,000.
And while Saturday's fundraiser is to raise awareness for suicide in general, veteran suicides hit home for the staff of Black Sheep. Millin is a veteran himself, and owner and tattoo artist Becca Parks' brother is in the service.
"It hits deeply kind of for all of us, we all are connected in some way or another to veterans," Millin explained.
According to Arizona Violent Death Reporting System statistics from Jan. 1, 2017 to Aug. 31, 2017, Mohave County has the second most veteran suicides per 100,000 population at 39.5, second only to Yavapai County at 58.8.
Black Sheep, 206 N. Fourth St., will open at 9 a.m. Saturday, and the fundraiser will continue for as long as supplies are in stock and people are in line. Four tattoo artists will be on hand for the event, and attendees will have the option of choosing between 17 different suicide awareness and veteran-supportive tattoos.
People can get up to two, $20 tattoos and choose up to two colors. Most piercings are also $20, with the exception of surface and dermal piercings because of the cost of materials. Those who attend Saturday's fundraiser will need to pick from Black Sheep's selection of suicide awareness tattoos.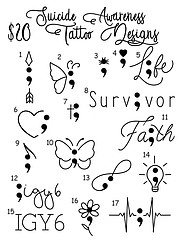 "The only reason we can't do custom (tattoos) that day is it would take too long to have to keep drawing out custom tattoos, and we'd never get through the line," Millin said.
A majority of those 17 tattoos feature a semicolon in recognition of the Semicolon Project, a nonprofit organization focused on mental health and anti-suicide.

"The semicolon really represents that it's not the end," Millin said, adding that people struggle with all sorts of barriers in their lives. "Sometimes when they see you have that semicolon on you, they're more comfortable because they know that you're willing to understand."
But you don't have to get a tattoo or piercing to support the work of the Jerry Ambrose Veterans Council. People can participate in raffles on Saturday with the chance to win items donated by the downtown business community – even a mandolin.
"So even if somebody doesn't want to come down and get a tattoo or piercing, come down and throw $5 at the raffle, throw $20 to a shirt, throw $10 to something," Millin said. "Or just come in and hand JAVC some money."
More like this story
SUBMIT FEEDBACK
Click Below to:
This Week's Circulars
To view money-saving ads
For as little as $3.49*