Quad driver arrested after police chase through neighborhood
Originally Published: October 12, 2018 4:49 p.m.
KINGMAN – Police arrested Derek Deverne Ferrier, 30, of Kingman, at about 2:45 p.m. Thursday on felony charges following a chase through neighborhoods around Harrison and Los Angeles streets.
Officers tried to stop a quad for a traffic violation around Wilshire Avenue and Harvard Street, and the rider accelerated at a high rate of speed into a desert area to get away from the officer.
Police offers saw the quad in the 2200 block of Robinson and Lucille avenues, and spotted a man matching the suspect's description who immediately fled on foot.
After chasing the suspect through several backyards, officers captured him in the 2200 block of Florence Avenue. He was uncooperative and refused to give any information about his female passenger.
The quad was founded in the 1800 block of Harrison Street and was reported stolen through the Mohave County Sheriff's Office.
Ferrier was booked into the Mohave County jail on felony charges of unlawful flight from law enforcement and unlawful means of transportation.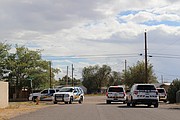 Information from Kingman Police Department
More like this story
SUBMIT FEEDBACK
Click Below to: