Rattler mountain bike race rescheduled following washout of trails
Originally Published: October 16, 2018 4:29 p.m.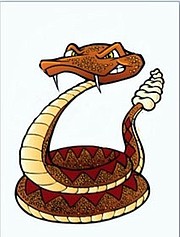 KINGMAN – The date for the fifth annual Route 66 Rattler Race has been changed from Saturday to Nov. 17 after most of the trails were washed out from the recent storm, the chairman of the organizing group said Tuesday.
The race, presented by the Colorado River Area Trail Alliance, starts at the Welcome Arch on Beale Street and winds through Fort Beale Street and Monolith Gardens, finishing at the arch.
"The trails at Monolith Gardens got totally destroyed from the last storm when the hurricane came through," said Scott O'Donnell, chairman of CRATA. "We've got a lot of repair work to do on the trails and that's our best estimate of time."
About eight volunteers from the trail alliance go out each week to work on the trails, he said. The Bureau of Land Management also sends crews to repair the trails after a storm.
About 140 riders signed up for last year's race in various age categories and skill levels. Part of the reason the start-finish line was moved from Monolith Gardens to Beale Street was to create more parking and a larger venue for participants, O'Donnell said.
"A lot of the restraints was the parking size at Coyote Pass," he said. "We also wanted to get participants to enjoy downtown, the breweries and restaurants. Mountain biking is a huge tourist-type industry and can bring a lot of revenue to the community. Our ultimate goal is to make Kingman a mountain bike destination."
Colorado River Area Trail Alliance is working with the City of Kingman, Mohave County and BLM to gain more access to trails, not only for races, but also for family recreation, O'Donnell said.
"Get the kids out from behind screens and out into nature," he said.
Mohave County Board of Supervisors approved the special event permit for the Route 66 Rattler Race as part of its consent agenda on Oct. 1.
Denise Myers applied for the permit on behalf of CRATA. The checklist included insurance certification, risk management inspection, and confirmation from Mohave County Sheriff's Office and Kingman Police Department. Quail Corp. will handle the traffic control plan.
Spectators can watch the race from Metcalfe Park and along the course, which ranges from 10 miles to 30 miles, depending on the category.
All proceeds go to the Colorado River Area Trail Alliance, a nonprofit mountain bike and trail advocacy group that's part of the International Mountain Bike Association. The group builds and maintains trails and organizes clinics and rides.
For more information, call 760-447-2029, or go to www.bikereg.com/rattler-race.
More like this story
SUBMIT FEEDBACK
Click Below to:
This Week's Circulars
To view money-saving ads
For as little as $3.49*