MSTEPP coalition has improved options for people in distress, and Southwest Behavioral stands on the front line of care

Originally Published: October 21, 2018 7:30 p.m.
The depths of despair can be so deep and daunting that any thought, never mind an attempt, of climbing out of it is nearly impossible to fathom.
There is good news. People and organizations stand ready to step up and help those who may be experiencing a mental health crisis, issues that come with addiction, or are just in need of a bottle of water.
"This is a success story," said Chaz Martinez, communications liaison at Southwest Behavioral & Health Services. "We sat down with the MSTEPP coalition eight years ago, and the sheriff's office knew we were having a crisis but didn't have facilities. We put together an assessment and presented it around the county, and we saw funding was starting to come into Mohave County."
When the onslaught of the opioid crisis hit, Mohave County found itself at the center of the storm as one of the hardest hit areas in the U.S. The Mohave Substance Treatment Education & Prevention Partnership, MSTEPP, has worked diligently to see substance abuse in the county decrease and for treatment options to start making an appearance in the communities of the area. "One of the things we have been sorely lacking is having individuals in place that can do a 'warm handoff' for those in need," said Robert DeVries, chief of Kingman Police Department and co-chair of the MSTEPP executive board. "Over the past year, Kingman Regional Medical Center, Southwest Behavioral, Mohave Mental Health and North Country Healthcare – Kingman have all hired case managers to fill that gap and help streamline the process for those in need or in crisis."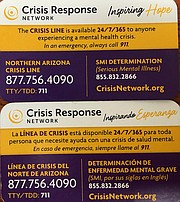 Kingman Observation Unit
There were only 10 beds in Mohave County a little more than a year ago to help people with addiction and mental health crises. The number is now 26 as Southwest has an access point for those in crisis that is open 24 hours a day, seven days a week at 1301 W. Beale St.
"We are willing to help with any type of crisis," said Larry Townsley, licensed marriage and family therapist at Southwest. "People could come in asking for a bottle of water, or they could come in asking for a meal. Not that we do that, but it is a part of what we can assist people with. We're not a kitchen, but we address the needs and necessities. We're working to strengthen their case management."
Southwest provides triage screening – a rapid assessment of an individual to get them to a level that best prioritizes their identified needs, and a prescreening process that arrives at a disposition – which gets the individual heading in the right direction for the help they need.
"Lots of people need help, but there are not enough beds," Townsley said. "We do work with other agencies around the state who could help at that point."
Future Southwest members arrive at the West Beale Street location a number of different ways. They could walk in, be referred by other area agencies of behavioral health or medical providers, be brought in by family members or significant others, law enforcement or community crisis teams.
Agencies use many different terms when describing their clients, patients and cases. Southwest prefers to use members, as it provides a level of respect from the start for people who are in distress and going through a difficult phase in their lives.
"It's not that we're the professional who is going to give you help until you leave, but I think it says we're part of their journey, too," said Steven Sheets, licensed addiction counselor at Southwest. "If we believe we're going to have our members enter into our journey, and we're entering into theirs, we are journeyers together striving for the same goals."
Once the triage screening and prescreening process is completed, members can be admitted into Southwest's Kingman Observation Unit if they haven't been referred to another agency that could better handle their particular situation.
Members who have the appropriate need for stabilization and observation will be provided with a chair, actually a recliner, for up to 23 hours and 59 minutes. They will receive follow-up services for their behavioral healthcare and/or substance abuse treatment needs, which includes evaluation, treatment, referral, nursing, service planning, recovery support and linkage to ongoing care.
"We try to provide that Disneyland level of customer service," Townsley said. "These are individuals who are in need of care and support, and that is what we are here for."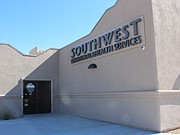 Terros Health, mobile crisis services
Substance abuse and mental health crises pop up at any time and any place. Mohave County now has Terros Health, which is a community-based intervention mental health and addiction organization.
Terros started 50 years ago in Maricopa County and in the past three years has expanded to Flagstaff, Prescott Valley and Kingman. It is available 24/7, 365 days a year.
"Our staff will go out to a home, in public or anywhere else," said Bryan Gest, Northern Arizona director at Terros. "We'll meet, assess the situation to find out what's going on, whether they are a risk to themselves or others, intervene, deescalate, and connect with other resources to meet basic needs."
Terros receives its funding from Health Choice Integrated Care for Mohave County, and that means there is no cost to those receiving care from the organization.
"We provide this to anyone," Gest said. "It's a big benefit. We can take over a scene where police are involved if it is more of a mental health issue versus a criminal issue. We can replace unnecessary police involvement."
Police officers and deputies already have their hands full dealing with other crime on the streets, and though they are becoming better trained in dealing with mental health issues, they now have an option.
"We are in partnership with Terros," said Rusty Cooper, Kingman Police Department deputy chief. "It provides another resource to people in crisis that otherwise might not rise to the level of a medical emergency. Our officers have Terros as an option when dealing with someone who is in a mental or emotional crisis."
Terros doesn't only operate with law enforcement. For anyone who sees another person experiencing a mental health crisis or may be in one themselves, they can call the Crisis Response Network at 877-756-4090. If it's an emergency, always call 911.
Crisis Response Network acts as a dispatcher and coordinates mental health providers to provide care.
The road home
The organizations KPD, Southwest, Terros, KRMC, Mohave Mental Health and North Country, all partner together in the MSTEPP coalition. Each one individually and all together as one unit have the same mission. They are most interested in a positive outcome for each and every person they come into contact with who is suffering a mental health or addiction crisis.
Southwest Behavioral believes its members need to be shown they already have it in them to succeed.
"We highlight people's strengths and empower the member to use those strengths and impact the community in positive ways," said Steven Sheets. "That is our mission and our goal through every type of program we have, whether it is opioid addiction or in our recovery unit, or the outpatient world.
"No matter what, we're trying to pull out their strengths."
More like this story
SUBMIT FEEDBACK
Click Below to:
This Week's Circulars
To view money-saving ads
For as little as $3.49*