Prep Volleyball: Lady Tigers make return trip to play-in tournament, but fall to Valley Christian

Originally Published: October 31, 2018 12:43 p.m.
CHANDLER – Success in any sport is never guaranteed from season to season. There is always a chance for a down year, but that wasn't the case this season for the Kingman Academy High School volleyball team.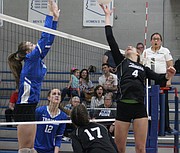 The Lady Tigers made 2018 just as special as 2017, but unfortunately their run came to end Tuesday night in a 3-0 loss (25-8, 25-20, 25-11) at Valley Christian.

"We accomplished a lot of great things," said Academy head coach Bill McCord. "I'm just proud that the girls were able to bounce back a second year minus a couple of people and repeat what we did last year – we made it this far to the play-in – and they kept their composure."
The No. 19-seeded Lady Tigers proved that fact in the second set after falling into 1 -0 hole against the No. 14 seed Lady Trojans.
Academy quickly bounced back by taking a 10-7 advantage that forced a Valley Christian timeout. The Lady Tigers didn't let that stop them – extending their lead to 13-9 and appeared headed toward a 1-1 tie in the match.
"We definitely had to get our jitters out in the first set," senior Grace Herbine said. "But in the second set, we worked so well as a team and got our energy up. It was just so cool to see that for our last match."
The energy was there for Academy, but the Lady Trojans found a fire of their own and rallied in a back-and-forth battle. The Lady Tigers still remained out front before falling behind 21-20 on the way to a 2-0 deficit.

"It was good to know it was pretty evenly matched," senior Isabella Anderson said of the second set. "But we fell a little short. We weren't passing well tonight and they were. The difference in the game was defense."
Academy still had an opportunity for a turnaround, but minor miscues proved costly and resulted in a 7-0 hole to force a timeout by McCord. While the Lady Tigers found a late spark, it was too little, too late in the loss.
While it wasn't the ending anyone wanted, Academy exceeded expectations in its first year in the 3A West Region by finishing 8-2 with both losses coming at the hands of No. 3 ranked Northwest Christian.
"I said from the beginning of the season that it was all about 'the team as whole,'" McCord said. "It's not about an individual, it's about the team. And we were only going to get this far if we played as a team and, for the most part, we did that."
The Lady Tigers (13-4) now regroup for 2019 and will do so without Anderson, Herbine and Dasani Cave.
"It's crazy – it all hit me at once in that last set," Herbine said of her high school career coming to an end. "But we all played super well as a team, so I'm glad I got to experience it with them."
Herbine has hopes of playing at the next level and so does Anderson, who will soon be back on the volleyball court.
"I still have probably another four or five months left of club volleyball," Anderson said. "I'm excited and looking forward to it. Hopefully it'll lead into college."
Youngker 3, Lee Williams 0
At Youngker, the Lee Williams High School volleyball team ended its season last week by falling to the ninth-seeded Lady Roughriders, 3-0 (25-22, 25-21, 25-16).
The No. 24-seeded Lady Vols finish 2018 at 9-9 and graduate two seniors, Ashley Sahawneh and Kaira Monson.
More like this story
SUBMIT FEEDBACK
Click Below to:
This Week's Circulars
To view money-saving ads
For as little as $3.49*