Prep Football: Vols take down River Valley for first win of the season

Originally Published: September 1, 2018 4:27 p.m.
KINGMAN – The Lee Williams High School football team focused all week on special teams. The Vols needed that phase of the game to step up and it did in a big way, as Matt Bathauer blocked a punt and Luigi Garibaldi recovered it and scored to spark the offense to a 28-14 win over River Valley Friday night at Volunteer Stadium.
Photo Gallery
Football: Lee Williams vs. River Valley - Aug. 31, 2018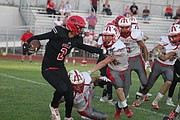 The Lee Williams High School football team won its first game of the year Friday night with a 28-14 victory over River Valley. Enzo Marino rushed for two touchdowns, while Donnie Simms also scored on the ground. Matt Bathauer blocked a punt and Luigi Garibaldi recovered it for a touchdown to round out the scoring. Photos by Beau Bearden.
"Anytime you block a punt and return it for a touchdown, it's going to pay dividends," said Lee Williams head coach Clint Sasse. "That always helps us get going. We've done that a lot during our career here. We've dialed it up a lot on opponents and it works out for us."
The blocked punt couldn't have come at a better time as neither team could find the end zone until Garibaldi scored with 1:48 remaining in the first quarter. That jumpstarted the Vols' offense on the way to their first win of the season.
"We had a lot of confidence going into offense and (the blocked punt and touchdown) made our momentum start rolling," said Lee Williams quarterback Enzo Marino. "From there, we went out and competed and won."
The Vols (1-2) relied heavily on Marino and a number of running backs to move the ball down the field.
Cameron Ott, Donnie Simms, Wesley Boyd and Marino combined for 112 yards rushing against the Dust Devils (0-3). Simms led the way with 41 yards and a touchdown, followed by Ott with 38 yards.
Marino ran for 20 yards and two touchdowns and passed for 97 yards.
"We had amazing blocking from everyone," Marino said. "The O-line really works hard and I'm really proud of our receivers for blocking out there and also our running backs. They busted their butts all game long. I'm so proud of them. They made that happen. I definitely give the credit to them – the O-line and everyone."
Lee Williams' blocking up front put it in a good spot at halftime with a 21-6 lead, but River Valley didn't go down without a fight. The Dust Devils whirled out of the locker room and scored a touchdown to cut the Vols' advantage to 21-14 with 7:41 left in the third quarter.
That didn't last long, however, as Simms responded with a 5-yard scamper to account for the final tally. River Valley did appear to make things interesting with 8:22 remaining in the game with a long pass to set the Dust Devils up in the red zone. A holding call nullified the play and the drive eventually died out.
It still grabbed Lee Williams' attention.
"That was extremely nerve wracking," Marino said of the play. "We were up at the time and we had a pretty decent cushion. But that definitely scared me a little bit. It just made me think we had to go out there and compete."
Bathauer joined Marino with that mentality throughout the game as he led the defense with eight solo tackles, one assist, and the important blocked punt. Brother Mike Bathauer also played an important role with six solo tackles and two sacks.
Lee Williams is back at home Friday with a 7 p.m. contest against city rival Kingman Academy (0-2).
More like this story
SUBMIT FEEDBACK
Click Below to: