Two adults, one child killed in Highway 89 crash
Four others transported to local hospital
The Daily Courier
Originally Published: September 1, 2018 6:33 a.m.
Two adults and a child died in a head-on collision along Highway 89 north of Chino Valley late Thursday afternoon, Aug. 30.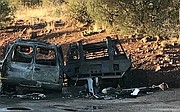 The crash occurred at about 4:45 p.m. when a Ford SUV traveling south crossed the center line and struck a Chevy Suburban that was going north, according to the Arizona Department of Public Safety (AZDPS).
The impact caused the Suburban to slide into a broken-down pickup truck stopped on the side of the road with engine problems.
Both the Ford SUV and Suburban caught fire after the collision, AZDPS reported. Upon arrival to the scene, the Central Arizona Fire and Medical Authority found both vehicles engulfed in flames with victims trapped inside.
The driver of the Ford SUV, Hue Sowash, 47, from Peach Springs, Arizona, died at the scene from his injuries, AZDPS reported.
The driver of the Suburban, Ian Castelhano, 29, from Crown King, Arizona, and a 3-year-old child passenger died at the scene from their injuries as well, officials said.
Passing motorists were able to get four other passengers out of the Suburban. They were all transported to a local hospital for treatment.
No one in the broken-down Ford was injured, AZDPS reported.
More like this story
SUBMIT FEEDBACK
Click Below to: