Arizona Game and Fish Emmy Award-winning wildlife cameras bring you into animals' natural habitats
Come discover the secret lives of animals
Originally Published: September 7, 2018 6 a.m.
KINGMAN – Viewers are going wild over the Arizona Game and Fish Department's wildlife cameras that have captured Emmy Award-winning video of animal and bird life in the desert.
The department recently received five regional Emmy nominations from the Rocky Mountain Southwest Chapter of the National Academy of Television Arts and Sciences for its television show, "Arizona Wildlife Views."
Producer David Majure and editor Ben Avechuco were nominated for Arizona wildlife shows in the category for Environmental Program Special. Majure was also nominated for director, video journalist and writer.
The 2018 winners will be announced Sept. 22 in Phoenix. There were nearly 1,000 entries this year from Arizona, Utah, New Mexico, Wyoming and California.
"Arizona Wildlife Views" is a half-hour TV series produced by the marketing branch of Arizona Game and Fish and aired on local PBS stations, cable channels and YouTube. Full episodes and individual segments can be viewed on the Game and Fish YouTube channel at www.youtube.com/azgfd.
Randy Babb, wildlife viewing program manager for Arizona Game and Fish in Phoenix, said the wildlife cameras provide a glimpse into what animals are doing in their natural habitat.
"All of these cameras basically are a gateway into the secret lives of animals," Babb said in a phone interview. "They allow you to see things you would not see otherwise. What person has time to sit for hours? These cameras put you right next to the animals. You can check your cellphone while you're waiting at the doctor's office and see what the animals are doing. Sometimes they're right there and readily visible. Other times they might not be available."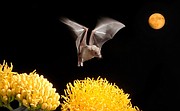 One of the more popular cameras is the "bat cam" recently installed at the Cluff Ranch Wildlife Area in southeastern Arizona, which live-streams the roost of the migratory Yuma myotis bats.
The bats are "truly amazing animals," and perform pretty much all the same tasks that birds do, Babb said. Most of their activity can be seen from about 8 a.m. to noon, he added.
"Of course, their routine changes. They're out in the morning. They're hanging upside down, stretching. By noon they move into the gaps of the building and they disappear," the program manager said.
The bats were first spotted in an old barn on the Cluff Ranch property in 1992. Bat species seen on the camera include pallid bats, canyon bats, cave myotis and Yuma myotis.
A trail camera in the Huachuca Mountains captured the image of a jaguar in 2016.
Babb said his personal favorite is the camera at Whitewater Draw near the Mexico border where thousands of sandhill cranes migrate in the winter. Game and Fish installed a high-definition camera for the wildlife reserve this year, he mentioned.
"Those birds show up in October, 20,000 birds hanging out in that wildlife area. It's really spectacular," he said.
Babb said the Game and Fish's audio-visual department is a "world-class outfit" that produces some amazing programs and has won many Emmy awards over the years for wildlife viewing programs.
More like this story
SUBMIT FEEDBACK
Click Below to: