The 72nd Annual Mohave County Fair opens Thursday
A Good Ol' Fashion Fair

Originally Published: September 9, 2018 6 a.m.
Grab your hats, come hungry, thirsty and with an expectation for good music to the 72nd Annual Mohave County Fair, An Ol' Fashioned American Fair, where performers, vendors, special events and more will be featured throughout four days of ol' fashioned fun starting Thursday.
The first three days of the Mohave County Fair will include multiple 4-H FFA livestock contests such as a sheep fitting contest at 10:15 a.m. Thursday, a judging of small animal classes at 10 a.m. Friday, and a parade of champions at 5:30 p.m. Saturday. These events are numerous and occur daily, the last of which being the 4-H FFA tug of war at 10 a.m. Sunday in the stall area.
Magic of Olly, magician and illusionist, will perform on the Alta Sharp stage at 5 p.m. every day but Sunday. George Johnson, Singing DJ, will perform in the food court from Thursday through Saturday. There will be a beer garden with a vast selection, and no shortage of food at this year's fair. That includes snow cones from Tropical Sno Shaved Ice, Ruthie's Taters will serve a variety of deep-fried items, Grub on the Go offers hamburgers and cheeseburgers, and much more. A pie eating contest is even scheduled for 4 p.m. Saturday.
"We've added new food, let's put it that way," said Tim Woods, Mohave County Fair Association general manager. "Hopefully this is going to be a trend."
Ramona Auld, fair association chair, said she is excited for the many exhibits that will feature arts and crafts, photography, crocheting, canned foods and pickled items. She also mentioned the petting zoo and pony rides as points of interest.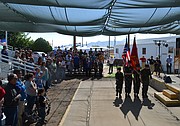 Musical headliners for Thursday, Friday and Saturday go on at 8 p.m. on the Alta Sharp Entertainment Stage. Come out and see Sidewynder Country Band on Thursday, Little Town Country Band on Friday, and Jimmy Ray & The Black Train, Tribute to Johnny Cash, Saturday. Big Chad & the Southern Gentlemen wrap up the fair with a country rock show at 2 p.m. Sunday.
Also, a number of performers will roam the fair Thursday, Friday and Saturday, including stilt walker Steven Rohmer and Karen Quest, trick roper. The Open Coliseum Circus will be open for performances at 3 p.m. and 5 p.m. during the first three days of the fair. There will be a fire eater, contortionist, juggler, clown, chair balancing act, and plate spinning.
"That is so cool, it's going to feel like an old fashioned fair because of that," said Jason Millin, Mohave County Fair Association board member. He later added, "I'm excited to see the guy eat fire."
Carnival rides, provided by Brown's Amusements, will be open from 4-11 p.m. Thursday and Friday, noon to 12 a.m. Saturday, and noon to 6 p.m. Sunday. Woods said Brown's "brings everything they've got."
There will also be a car show, courtesy of Chillin' on Beale and Route 66 Cruizers Car Club, held at Firefighter Memorial Park. On Saturday at about 3 p.m., those classic cars will make their way downtown to Chillin' on Beale.
The fair's hours are from 10 a.m. to 9 p.m. Thursday, 10 a.m. to 10 p.m. Friday and Saturday, and 10 a.m. to 5 p.m. Sunday. Closing times are in reference to when the fair exhibit hall shuts its doors for the day.
Admission for Thursday through Saturday is $4 for ages 4 to 11, $7 for ages 12 and up, and $4 for seniors and veterans or military personnel. Children 3 and under get in for free. Sunday's admission fees are reduced to $2 for ages 4 to 11, $5 for ages 12 and up, and $2 for seniors, veterans and military personnel. Ages 3 and under again get in for free. Parking each day is $3.
"Take your time, walk around, enjoy everything that it has to offer," Auld said.
More like this story
SUBMIT FEEDBACK
Click Below to: