Obituary | Brian D. Campbell
Originally Published: September 9, 2018 5:59 a.m.
Brian D. Campbell, 61 passed away on September 4, 2018 at his home in Glendale, Arizona after a courageous struggle with ALS (Lou Gehrig's Disease). Brian was preceded in death by his sister Darcy D. Campbell, in 1962. He was born in McPherson, Kansas, and is the son of Robert Campbell and Lois Marie Miller. Brian and his sister Stacy, moved to Kingman with their parents in 1968. Brian attended grade school at Palo Christi, and graduated from Kingman High School. He then furthered his schooling, and graduated from the University of Arizona.

Brian always loved to work. In fact from the moment he was old enough he had a paper route, which he did for many years. He also worked for KAAA, the local radio station as a disc jockey. Brian's career started with GTE where he led the software tools development division. Brian then went on to AG Communication Systems where he continued to lead and develop software. In addition, he traveled to Bangalore, India as the Principal Engineer of product development. Brian's career was completed by working as a distinguished member of the technical staff at General Dynamics in Scottsdale, Arizona. Brian was a volunteer at the Challenger Space Center, and provided tours of the exhibits and science demonstrations. In addition, he directed simulated space missions for the Challenger Center.

We feel so blessed that Brian naturally took on the role as family historian. He left behind a large collection of documentation including cherished photos and home videos. Brian had a passion for space, math, and science. He shared that passion with all those he loved and the greater community.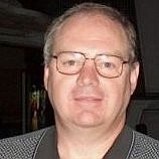 Brian is survived by his wife of 37 years, Merna; and 3 children, Lisa (Campbell) Robbins, Laura Campbell, Robbie (Robert) Campbell; his parents Lois Marie Miller and Robert and Jennie Campbell; his sister Stacy D (Campbell) Merritt. Brian was blessed to be in a large blended family that included numerous friends and relatives; this encompassed his three sisters, Candice (Campbell) Massey, Bobette Campbell, a foster sister Shirley (Early) Hammond, and his step-brother Ryan Peck.

Just as the world of science and discovery had a profound effect on Brian's life, his passing will forever leave a tremendous void for those who knew him.




There will be a memorial service on noon Saturday, September 22, at The Church of Jesus Christ of Latter Day Saints at 5250 W. Thunderbird Road, Glendale, AZ.

In lieu of flowers memorials may be made to: ALS Association Arizona Chapter, or Hospice of the Valley in Brian's name.

SUBMIT FEEDBACK
Click Below to: