Annual grape stomp brings out the child in everyone

Originally Published: September 10, 2018 6 a.m.
KINGMAN – Attending every year, D'Arcy Wagner of Kingman makes it her goal to put fresh new grape-stained footprints on her white shirt. She got her feet a little dirty Sunday afternoon stomping grapes and one of the memorable things about her experience is all the "grape" people she gets to meet.
Stomping grapes isn't just for the wine lovers in the area but children also had the opportunity to stomp grapes and get those few minutes of getting down and dirty.
Cherelynn Baker from Golden Valley attended the event with her son as she realized that in the Hebrew calendar today states the new year of the new wine. So she made it her mission to come out to start the new year.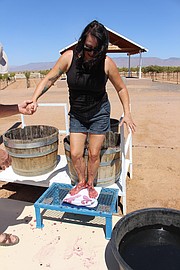 "This is the best experience ever," Baker said. "It's a fun family event. I can hardly wait to do it again next year."
Baker's grape-stopping experience was described as cool, warm, squishy, comforting and a bit weird but overall she had an awesome experience.
The grape stomp was put on by the Stetson Winery in Valle Vista. Jo and Don Stetson, owners of the winery, started the event five years ago when Jo thought of the idea.
"I said, 'Don, why don't we do a grape stomp,'" Jo said. "He said 'Jo you're crazy.'"
"You know what I may be but lets try it anyway," Jo said.
The first year they decided to host a grape stomp they had a big turnout, according to Jo. The event was a two day experience and Saturday had a big turnout with about 250 - 300 people and with Sunday to match the same turnout.
People come from all over the area to participate in the event with friends and family. Stella Roknian from Nevada enjoyed her Sunday afternoon with her family at her side.
"It's a super fun event, they do it so beautifully," Roknian said. "You can feel the love in the place. It's evident."
First timers to the event, Gail and Richard Fry, said it felt great on the toes and could have added five years to their lives.
More like this story
SUBMIT FEEDBACK
Click Below to: