Poll: Arizona voters prioritize conservation of public lands, support mining ban
Erin Ford, Grand Canyon News
Originally Published: September 10, 2018 5:58 a.m.
In a recent bipartisan poll conducted statewide, Arizona voters signaled their support for recreation on public lands, with 48 percent indicating they would have a more favorable opinion of a candidate who supports a ban on uranium mining near the Grand Canyon.
In general, the poll also found that a higher percentage of voters felt more should be done to protect public lands, not just those in Arizona. More than half (52 percent) indicated they felt more should be done to protect public lands, while 39 percent said they thought enough was being done and only two percent indicated they felt too much was being done.
Lori Weigel, who conducted the poll on behalf of the Republican Public Opinion Strategies, said those numbers have increased since the first poll they conducted in 2008, when 43 percent felt public lands needed more protection and 35 percent thought enough was being done.
Of the 600 Arizona voters polled, 56 percent said they have visited a national park within the past year, and 61 percent said they had visited other public lands, such as national forests or wildlife refuges. 90 percent said they had visited the Grand Canyon at least once in their lives.
"The Grand Canyon plays a uniquely iconic role among America's public lands," said David Metz, who conducted the poll for the democratic FM3 Research. "Outdoor recreation is something that's part of most Arizonans' daily lives."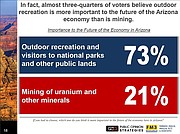 Weigel said support for conserving the Arizona's public lands is widespread across the state, and not limited to one group or area.
"Nearly half (of those polled) indicated they strongly support keeping the ban on uranium mining (near the Grand Canyon)," she said. "That view is held across the state. It is held across partisan lines and the support is evident in every type of community.
A strong majority of voters who identify as democratic or independent said they supported keeping the ban, at 69 and 67 percent. Sixty percent of the democratic voters indicated they strongly agreed with keeping the ban, and 47 percent of independents also strongly agreed. More than half of registered Republicans also indicated they thought the ban should remain in place at 56 percent.
Metz said the poll also indicated voters felt recreational opportunities not only contributed to greater quality of life for residents, but was also a greater driver of the economy than extractive industries such as mining. 86 percent indicated that conservation of public lands, water and wildlife was critical to Arizona's economy. Among respondents who felt mining was more important to Arizona's future and economy, 65 percent still indicated the ban on mining near the Grand Canyon should remain in place.
Both Metz and Weigel agreed the bottom line among all respondents was that they support continuing the existing ban on uranium mining near the Grand Canyon, even after hearing pro and con statements on the policy. A strong majority also indicated that outdoor recreation and tourism is more important to the economic future of Arizona than extractive industries like mining. 96 percent indicated it was critical to quality of life for residents.
More information and complete poll results and methodology is available at www.grandcanyontrust.org/grand-canyon-poll-key-findings-august-2018.
More like this story
SUBMIT FEEDBACK
Click Below to:
This Week's Circulars
To view money-saving ads
For as little as $3.49*