Too young to remember, students honor flag during 9/11 memorial
Originally Published: September 12, 2018 2:47 p.m.
KINGMAN – Eighth-grader Colin Johnson was loud and clear in voicing what the American flag means to him during a Tuesday memorial of the terrorist attacks on Sept. 11, 2001, in New York City and Washington, D.C.
It's a symbol of freedom, independence and democracy, he said.
"You are here today because of the flag," the boy shouted during a 30-minute ceremony held at Fireman's Memorial Park and attended by officials from the City of Kingman, Kingman Fire Department, Kingman Police Department and Mohave County Sheriff's Office..
Johnson was among seven students from Kingman Middle School selected to read essays from their English class on why we honor the flag and the importance of the terrorist attacks in U.S. history.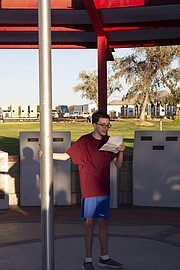 Savana Whatley said the flag has always been a part of our lives and exemplifies our freedom and peace.
It shows the "stubborn, mean pride" of the American people, and many people have died to keep it flying, Kaylin Nelson added.
Girl Scout Troop 2074 presented the colors and led the Pledge of Allegiance. Speakers included Mayor Monica Gates, Fire Chief Jake Rhoades and Sheriff's Chief Deputy Dean McKie.
Cathy Nowicki, Kingman Middle School teacher and Girl Scout leader, said the terrorist attacks are part of the kids' history lessons in school, explaining how they raised the country's level of patriotism and play into the government's "tricky relationship" with other countries.
Rhoades said the 3,000 people who died when the World Trade Center's twin towers crumbled to the ground included more than 400 firefighters and policemen who gave their lives in the rescue effort.
The world changed forever that day, he said.
The fire chief keeps a picture of FDNY Ladder 118 crossing the Brooklyn Bridge, the last picture sent by one of the firefighters to his girlfriend, and said it's no different for any other first responder who puts the uniform on every day.
"We remember the past, never forget it, and pass it on to the future," Rhoades said.
Gates said she was pleased that educators at Kingman Middle School and throughout the nation are working to remind youths what "makes our country so strong."
Most people immediately remember where they were and what they were doing on Sept. 11, 2001, Deputy McKie said.
"If you're under 17, you never knew what it was like going to a concert or ball game without being searched," he said.
More like this story
SUBMIT FEEDBACK
Click Below to: