Writer's conference added to KABAM Festival and Poetry Slam
Originally Published: September 12, 2018 6 a.m.
KINGMAN – Showing off creativity and literacy in town, the Kingman Area Books Are Magic Festival is adding a writer's conference on Sept. 22, following the 13th annual KABAM Poetry Slam on Sept. 21 with monetary awards handed out to the best three poets.
The writer's conference provides a chance to network with other writers, editors and publishers, and take writing skills to the next level with a schedule of five workshop sessions, said Stephanie Cress, who's been working the KABAM Festival for five years.
The conference is being held from 9 a.m. to 3 p.m. Sept. 22 at Beale Celebrations, 201 N. Fourth St. Early-bird registration is $40 through this Saturday. After that, it's $50. Registration details are available at kingmankabam.org.
"We're doing something different with the writer's conference rather than just the festival," Cress said. "You'll be around people of all levels of learning their craft."
Cress earned a biology degree from University of Colorado, but found her passion in writing. Her most recent book, "Gilded Shadows," is part of a five-book series from New Link Publishing.
"I have trouble writing about myself. I like fantasy. I can make up the rules," she said.
The public is invited to meet local authors at the festival from 3-6 p.m. Sept. 22. There will also be vendors, book signings and author panels.
The KABAM Festival starts with the Poetry Slam from 7-10 p.m. Sept. 21 at Kingman Center for the Arts, 208 E. Beale St. The slam is free to enter, with $150 for first place, $100 for second and $50 for third.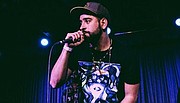 It's presented by the Kingman Area Literacy Project, Mystic Publishers and the Kingman Center for the Arts.
Mohave Community College is holding a book-signing and movie in association with KABAM Festival. Adam Rex, author of the children's novel, "The True Meaning of Smek Day," will sign from 6-7 p.m. Sept. 20 in Building 200, Room 240 at the college, 1971 Jagerson Ave. He'll also demonstrate character drawing and illustrations.
The Dreamworks animated movie, "Home," based on his novel, will be shown at 7 p.m. It's free and open to the public.
Cress said she was just beginning her writing career when she was "roped" into KABAM by Bruce Carter, head of information technology at Mohave County Library and chairman of the festival. She volunteered as an author liaison.
She had attended a writer's conference in Las Vegas that started small and now requires early reservations. The registration cost compensates workshop instructors and rental of Beale Celebrations.
"It's really great for us," Cress said. "We have meeting space upstairs with publishers, breakout sessions, workshops, editors, publishing marketing. People honing their craft."
The KABAM writer's conference is one of the best ways to meet other writers and mingle with "a crowd of your people," Cress said. "There's like a magic there. It's comfortable. It's a crowd I like, for someone who hates crowds."
KABAM Festival's featured event is the Poetry Slam, which is scored from one to 10 over three rounds. Judges aren't looking for technical phrasing, but are going to vote for whatever they like, Cress said.
"Slam poetry is a specific style. It's not reading poetry. It's performing. Some poems just need to be performed out loud, not read like a school recitation," she said.
Call Poetry Slam host Mikel Weisser at 928-234-5633 or email mikelweisser@gmail.com to submit entries. Poems do not need to be approved beforehand. If poets can bring a spare printout, it will be helpful for our sign-language interpreter. It is requested that poems are rated "PG" or lower.
Poems must not exceed 3 minutes in length. Poets should bring a total of four poems to cover each of three elimination rounds, plus the finalist round.
Featured poet at the KABAM Poetry Slam is Myrlin Hepworth, who was named Arizona Humanity Council's Rising Star for his work as youth advocate and teaching artist.
His work is grounded in both hip-hop and literary arts. Over the better part of a decade, Hepworth has performed and worked with more than 100,000 Arizona youth, and tens of thousands more across the nation.
More like this story
SUBMIT FEEDBACK
Click Below to: