County wants BLM to extend comment deadline before closing trails
Originally Published: September 18, 2018 5:57 a.m.
KINGMAN – About a dozen off-road enthusiasts showed up Monday to denounce the BLM's plan to close 1,622 miles of trails on public land in Mohave County, claiming it's going to decimate certain businesses and close access to some of Arizona's most stunning landscape.
Mohave County Board of Supervisors voted unanimously to review the county's public lands rights of way created by RS 2477, which is a law enacted by Congress in 1866 to encourage settlement of the West, or by other legal means, across BLM public recreational trails that are currently being considered under the draft travel management plan for the Kingman field office's management area.
Steve Latoski, director of public works for Mohave County, said the draft plan studies nearly 5,600 miles of trails in the BLM's management area, including the Hualapai Mountains, Cerbat Mountains, Music Mountains, Black Mountains, Crozier, Bagdad and White Hills.
Public works compiled a "very robust" analysis of the trails with staff looking at 100-year-old maps to study the history of trail uses, Latoski told the board.
They found 172 miles of the proposed closures that may have been ascertained by RS 2477, which would allow the county to assert its right-of-way use, he added.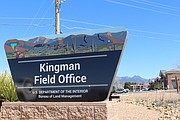 "We have been actively communicating (with BLM) on our standing position against any closure of public use trails for access to ingress and egress," Latoski said.
Supervisor Hildy Angius thanked the people for attending the board meeting and for calling and writing to her about the issue. The BLM has been "open and forthcoming," but she still had a lot of questions.
For one, she wanted to know if the BLM could extend the public comment period beyond the Sept. 18 deadline.
Supervisor Jean Bishop made a motion that was part of the 5-0 vote to allow Chairman Gary Watson to sign a resolution requesting a 180-day extension on the comment period.
Penny Pew, a staff official for Rep. Paul Gosar, said she would go to the Kingman BLM field office after the meeting and make a call to Washington, D.C., on the matter, but could not guarantee a 180-day extension, or even 30 days.
Angius asked if Pew had ever seen the BLM extend the deadline for comment, and Pew answered she had not.
Chuck Brinkley, president of Golden Shores Off-Roaders and owner of a general store, said the off-road economy is huge for his business. He supported the extended comment period.
Jim Ott of Bullhead City said he was surprised to read about the BLM's trail closure plan in the newspaper. He retired to Arizona from outside Chicago after reading "Arizona Highways" magazine.
"This is the most magnificent state there is, really, and you really don't get to see the state from the highway," Ott said. "You see Finger Mountain. How many of you have driven to the bottom of it and looked up? That's an impressive rock."
Ric Swats of Golden Valley cited reports that outdoor recreation is a $21 billion industry in Arizona, including $1.67 billion in Mohave County, and it's not just off-road vehicles. There are trails for hikers, equestrian riders, bicyclists and motorcyclists, he noted.
"Our county trails are too valuable of an asset to put under the hands of Washington bureaucrats," Swats said.
More like this story
SUBMIT FEEDBACK
Click Below to: