With planning, school lunches can be packed with pizzazz
Originally Published: September 18, 2018 6 a.m.
KINGMAN – The kids are a couple months into the new school year and already the lunchtime blahs are setting in.
Hey, buddy, I'll trade you my baby carrots for your Snickers bar? How about a peanut butter and jelly sandwich for your ham and cheese?
It's tough bartering for the kid who's got little to offer.
And it's not purely the parent's fault. From the same old soggy sandwiches to the hurry-up lunch, it's easy to get stuck in the rut of what to pack for lunch.
But with some simple planning and a few creative ideas, lunches can be healthy, fresh, affordable and, most importantly, fun.
Bashas' grocery store, with a location at 3360 Andy Devine Ave. in Kingman, is sharing some easy lunch-packing tips for parents that will also save them money.
"My wife packs my son's lunch," said Robert Tooker, manager at Bashas' in Kingman. "He gets squeezed apple sauce and cheeses, some fruit. He can trade granola bars and cookies. Definitely no candy."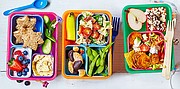 It's easy for parents to pack inspiring lunches for their kids, and themselves, said Jaime Parker, a former teacher who now works as a health coach with the Wellness Council of Arizona. She provides health coaching for Bashas' employees at more than 100 stores.
Here are some of Parker's suggestions:
Plan ahead for the week. Turn your Sunday into a lunch-planning day for the week, rather than be in a scramble every morning wondering what to pack for the day. Use divided bento-style lunch containers to pre-package lunches for the week, making them go from the fridge to a lunch bag in a snap. Prepare bulk foods to add variety, such as rice, quinoa, grilled chicken and beans.
Involve your kids. Invite your children to help shop for groceries and teach them the importance of healthy eating. If you take your children with you when you shop, encourage them to choose produce of a certain color – it's a great lesson in color identification, too. When it's time to pack lunches for the week, bring out healthy fruits and veggies, and get your kids to be part of the assembly, choosing healthy foods that they'd like to eat. When you allow your children to participate in food preparation, making it fun and encouraging them along the way, the finished product is something they're proud of and more willing to eat.
Ditch the PB&J. Variety is key. Go beyond a typical peanut butter and jelly sandwich by creating a healthy lunch with nitrate-free lunchmeat, cheese, yogurt, veggies, crackers and mustard. Assemble a smorgasbord of lighter snacks, including hard-boiled eggs, dried fruit and air-popped corn. Change up your sandwich by wrapping it with a whole-wheat tortilla, mini corn tortillas, lettuce or even collard greens.
Choose healthy. It doesn't take a lot of effort to make healthy foods fun. An easy, inexpensive, super healthy idea is to use hummus as your protein source. Put some in a gluten-free tortilla and add prewashed veggies and avocado.
Make veggies go undercover. Veggies often come back home as the lone occupants of a child's lunchbox. Put these vitamin-packed powerhouses back in demand by asking kids to choose from two or three options. Jam-pack veggies into sauces that can be used for pizza or pasta. Put excitement back into vegetables by using cute cutters and stringing carrots, peppers and cucumbers onto a skewer. It's amazing when they find out some of their favorite meals have veggie ingredients they don't see.
Stretch your budget. Did you know that just by packing your lunch, you'll save anywhere from $1,500 to $2,400 a year? Healthy, fun lunches don't need to cost a fortune. Grocery stores run weekly advertisements and offer special deals based on what you purchase regularly. Buy bulk when you can for healthy and delicious items, including rice, nuts and dried fruit.
Get creative with old standbys such as tuna, which can be doctored up with celery, relish, crunchy veggies, fresh herbs and more. Take advantage of eggs – from packing a hard-boiled snack to an omelet, eggs are versatile, travel well and are very healthy.
More like this story
SUBMIT FEEDBACK
Click Below to:
This Week's Circulars
To view money-saving ads
For as little as $3.49*