Originally Published: September 19, 2018 3:31 p.m.
KINGMAN – The Lee Williams High School volleyball team almost accomplished another first in program history Tuesday night. The Lady Vols had never beaten Prescott and were on the verge of doing so, but couldn't quite pull it off in a heartbreaking 3-2 loss (19-25, 15-25, 25-19, 25-11, 15-12).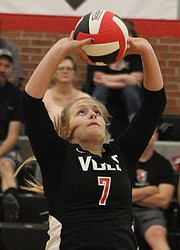 "When a team makes us work for it and we get behind, we have to be able to fight back," said Lee Williams head coach Riley Blake. "Unfortunately in some cases, we're not able to. Toward the end here, they were fighting. And they were fighting hard. Things don't our way all the time and that's sports. We're taking these matches and we're learning from them."
It was a tough learning experience for the Lady Vols (4-3, 2-2 4A Grand Canyon Region) after being six points away from tallying a sweep. Lee Williams battled to a 19-19 tie during the third set, but that quickly turned into a 24-19 deficit.
The Lady Vols called a timeout, but couldn't rally back.
The match was far from over, as Lee Williams still held a 2-1 advantage. But the Lady Badgers (3-4, 3-1 4A Grand Canyon Region) never trailed in the fourth set after the Lady Vols took an early 2-0 advantage.
The momentum was clearly in favor of Prescott and it capitalized on it by taking a 5-2 lead in the winner-take-all fifth set.
Lee Williams was down, but not out as it found a groove to tie it at 8-8. The set would feature two more ties, but the Lady Vols never found that extra push to grab the lead.
"It's frustrating for the girls, absolutely," Blake said. "But volleyball is so mental and we have to work on that mental game. We're working on it every day. I saw improvement from the last two matches and this match. I think I'm going to see improvement from there."
Ashley Sahawneh led Lee Williams with eight kills and five blocks, while Kalyse Whitehead had six kills and four blocks. Lorelei Fernandez added six kills and five digs. LaNae Burgess notched a team-high 13 assists and Kaitlin Echeverria was close behind with 10 assists.
"We're really focused on the positives," Blake said. "That's what we like to look at. Yeah, there is always negatives. But we like to focus on the positives. The serves – they were hitting the floor for me where I haven't seen that in the last couple of matches. They're doing phenomenal – they're playing as a team and the communication was better."
The Lady Vols return to the floor at 6 p.m. today with a road match at Bradshaw Mountain (5-2, 2-1 4A Grand Canyon Region).
More like this story
SUBMIT FEEDBACK
Click Below to:
This Week's Circulars
To view money-saving ads
For as little as $3.49*