Valle Vista residents hoping to improve fire district service
Originally Published: September 19, 2018 5:58 a.m.
VALLE VISTA – Former Fire Chief Wayne Eder drew applause from the 40 people following his presentation Monday on how residents of this retirement community east of Kingman could form their own fire district, but nobody rushed to action after the hour-long meeting.
Eder, whose contract with the Northern Arizona Consolidated Fire District was terminated in May, had been asked by several people how Valle Vista could take their fire district back after a medical response in August took 35 minutes.
"I'm not here for applause. I'm not here to tell you to leave the fire district," Eder said at the Valle Vista Clubhouse. "I'm here to tell you what it takes. I'm just providing you with information."
Residents called for a town hall meeting on how to improve service from their fire station following the medical incident.
Sue Ciciarelli said she called 9-1-1 when her husband, Roger, a 79-year-old cancer patient, had a heart rate of 40. They live a block from the Valle Vista fire station, which is staffed with a paramedic and EMT.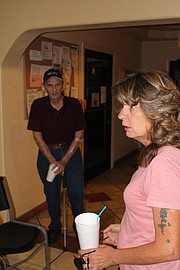 "They're not going to dispatch our guys because they said it's not medically necessary," Ciciarelli said. "That's what really bothered me."
Her husband was taken to the hospital and had surgery for a pacemaker the next day, she mentioned.
"Luckily he didn't die because paramedics were not dispatched," Stephanie Ewig said in an email to the Daily Miner. "The bottom line to this is money. I could care less about the spat between different factions when someone's life is on the line."
Valle Vista was among several smaller fire districts that merged with Northern Arizona Consolidated Fire District in 2006-2007, and the district has been besieged with controversy ever since.
Eder, who previously served as fire chief of NACFD and was rehired in 2017, said citizens of Chloride had approached him about forming their own fire district.
He went to attorney Bill Whittington who said it's never been done, but it only takes one person to say they want the boundaries changed.
Eder told the Valle Vista group that it would take about $648,000 in projected revenue to fund its own fire district, with 80 percent to 90 percent of it going toward personnel costs. That would include a fire chief, six full-time firefighters, part-time administrative assistant and on-call volunteers.
Other considerations in forming a fire district include insurance, agreements for mutual aid such as ambulance service, ISO ratings and Public Safety Personnel Retirement System costs, although state law does allow for other retirement plans, Eder said.
Valle Vista accounts for about 300 calls a year to Northern Arizona Consolidated Fire District, and it's been pretty steady for 15 years except last year when it spiked due to one person abusing the 9-1-1 system on almost a daily basis, Eder said.
"I don't know if fire response is different, but when you have to wait 35 minutes for AMR to get here, that's a problem," said Rick Veradt, who has lived 18 years in Valle Vista. "It's a lot of people's opinion that AMR is controlling the fire district."
Eric Berg, a supervisor at AMR, was appointed to the NACFD board in April, and Veradt sees it as a conflict of interest.
Veradt was among three plaintiffs who contested board member Carl Hays' residence in the district, pushing Hays to resign in August.
More like this story
SUBMIT FEEDBACK
Click Below to:
This Week's Circulars
To view money-saving ads
For as little as $3.49*