Library book sale offers treasure chest of books, CDs and movies
Originally Published: September 20, 2018 6 a.m.
KINGMAN – From a cookbook signed by Ann Romney to "Murder in Brentwood" by former police detective Mark Fuhrman, some 7,000 to 8,000 books will be offered for sale by Friends of Kingman Library.
The book sale starts at 6 p.m. Thursday for 147 members of Friends of Library, then is open to the public from 9 a.m. to 5 p.m. Friday and 9 a.m. to 3 p.m. Saturday at the library, 3269 Burbank St.
It's one of four book sales held each year by the nonprofit organization to raise money for the public library. Books are sold for $1 for paperbacks and $2 for hardbacks, with a 50-cent bargain bin. CDs, DVDs and audio books are priced as marked.
The books sales bring in about $2,000 to $3,000 that's used to buy new books and CDs for the library, pay for children's events and provide $25 gift certificates for the summer reading program, said Gloria Dunkel, publicity chairwoman for Friends of Kingman Library.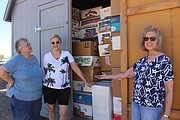 The Friends put together a package with a children's book and library card for newborn babies at Kingman Regional Medical Center.
You never know what treasures you might come across at the book sale, said Mary Griffis, secretary and 10-year member of the library support group.
"Some of the hardbacks we open up have never had the spline cracked," Griffis said Tuesday as she sorted through boxes of donated books in the library's storage shed. "Someone gave it to them as a gift and they gave it to us. Some people have picked up autographed copies of books for the same two bucks."
Yvonne Decker, treasurer for Friends of Kingman Library, said the book sale is a great way to enhance your home or personal library collection at bargain prices.
You'll find thousands of children's books, fiction and non-fiction, collector's books and classics. There are books written by Louis L'Amour, Mary Higgins Clark, John Grisham and other popular authors.
"I love to read," Griffis said. "I think books are like gems. You hang on to them and treat them well. You can go on vacation without leaving your house."
Decker researches books that are donated for the sale and sends 20 boxes of books at a time to a consignment store in Phoenix. One book written in 1876 was worth $800, she said.
"It's just amazing the books that come in," Decker said. "I have one on the history of underwear. It fascinates me the things they write books about."
Mohave County Library District has seen its budget reduced, though some of it has been restored by the Board of Supervisors. The Kingman Library used to receive $10,000 in funding from the City of Kingman, but that has also been cut, Decker said.
Despite the technology revolution that has provided people with ability to read books, magazines and newspapers online, the library remains relevant, Decker mentioned.
"One of the things people don't realize, especially in Kingman, the library is like the community center. They do crafts and classes. You get rid of the library, you get rid of the community," she said.
Some things are not available on Kindle, or they're too expensive, Dunkel added. "You can come here and rent movies and CDs. The library provides a lot of opportunity for people that don't have computers," she said.
More like this story
SUBMIT FEEDBACK
Click Below to:
This Week's Circulars
To view money-saving ads
For as little as $3.49*