Just who is Andy Devine?
The man behind the street name, the festival, the rodeo and the "dual-tone wheeze"

Originally Published: September 23, 2018 6 a.m.
A series of questions is often asked by visitors to Kingman: Was Andy Devine a person? Why is there a street named after him? There's a festival and rodeo named after him, too? Who was he? And the answers are generally given: Yes. He was from here. Yes, every September. He was an actor.
All of those answers are true, but it doesn't really answer that last question.
Who was Andy Devine?
Andrew Vabre Devine was born Oct. 7, 1905 in Flagstaff to Tom and Amy (Ward) Devine. Tom worked for the railroad until he lost a leg in an accident a year after Andy was born. The young family moved to Kingman where Tom purchased and operated the Hotel Beale for years.
Tom was an involved, community-minded man, and Amy had been a teacher. She had tutored the children of the Governor of Nevada before her marriage to Tom. Amy was also a granddaughter of Commander James Ward, the first U.S. Naval Officer casualty in the Civil War.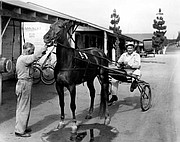 Throughout his childhood in Kingman, Andy Devine was known to be mischievous. One account states a judge had offered Andy and a friend 50 cents to get rid of a feral cat. The boys' plan involved the cat, a stash of dynamite and a long fuse. Needless to say, a woodshed was lost that day.
His tricks and pranks didn't end there. Andy worked with his father at the Hotel Beale, and he would regularly nail clients' satchels to the floor. Among the clientele were many salesmen who had parked their satchels by the front door while waiting for the train. Andy shouted "Train's a leavin'!" and the salesmen made a dash, grabbing and ripping apart the satchels which were nailed firmly to the floor.
Andy was an able athlete as a student and actually played semi-pro football under a false name, Jeremiah Schwartz, often erroneously presumed to be his real name. Andy Devine used the false name in order to remain eligible for college football.
After being a successful football player at St. Mary and St. Benedict College, Northern Arizona State Teacher's College – now NAU – and Santa Clara University, Andy went to Hollywood with dreams of becoming an actor.
Andy's first appearances were in silent films, as a bit player, and he made several in the mid-to-late 1920s. When "talkies" came on the scene, Devine's film career appeared to be over, primarily because of his voice which was high, squeaky and had a timid catch to it.
His high-pitched gravelly voice was the result of a childhood accident. While running with a curtain rod in his mouth, he tripped and fell, ramming the rod through the roof of his mouth. For almost a year, he was unable to speak at all. When he did get his voice back, at length, it had the wheezing, almost duo-toned quality that would ultimately make him a star.
In the early 1930s, Andy was given a good part in the talkie "The Spirit of Notre Dame" in part due to his fine record as a football player. His sound-film career seemed at risk due to his severely raspy voice.
"I've got the same nodes as Bing Crosby, but his are in tune," Andy once said.
His voice proved to be his best asset and it launched a successful run of comedic roles in films, on stage, over the radio and on television. Andy spent the next 45 years becoming an increasingly popular and beloved comic figure in a wide variety of films.
Andy Devine was under contract for over 15 years to Universal Pictures, and he appeared in scores of features including a number of westerns. Although in his first western he played a dull-witted young man who is hanged after an accidental killing, that type of role soon gave way to the comic sidekick character. He played Cookie Bullfincher in nine of the Roy Rogers' color movies of the late 1940s, replacing Gabby Hayes.
Andy continued throughout his career playing the comic relief roles in musicals, westerns, and even a couple of gangster pictures. He was also the voice of Friar Tuck in Disney's 1973 adaptation of "Robin Hood."
In the 1950s, his fame grew enormously with his co-starring role as Jingles opposite Guy Madison's "Adventures of Wild Bill Hickok" (1951), on television and radio simultaneously. In 1955, before the Hickok series ended, Devine took over the hosting job on a children's show retitled "Andy's Gang" (1955), in which he gained new fans among the very young.
All totaled, Andy appeared in more than 400 films during his career. His prolific acting lead him to having two stars on Hollywood Walk of Fame. His first for radio can be found on the south side of the 6200 block of Hollywood Boulevard, and the second for TV is on the south side of the 6300 block.
Andy Devine continued acting in films until his death on Feb. 18, 1977 of leukemia at the age of 71. When he died, he left behind his wife of 44 years, Dorothy, and two sons.
This week, which ends in the Andy Devine Days Festival and the Andy Devine Days Rodeo Saturday and Sunday, is in the honor of a man who came from a childhood in our small western town, had a dream of being a star, and ended up with two.
"If we listen carefully on Andy Devine Days we may hear, above the hoopla and fanfare, a squeaky, raspy voice, saying, 'I've got the best seat in the house,'" said Karen Goudy, former curator of the Mohave Museum of History and Arts.
More like this story
SUBMIT FEEDBACK
Click Below to:
This Week's Circulars
To view money-saving ads
For as little as $3.49*