Originally Published: September 24, 2018 5:56 a.m.
Mohave County Sheriff's Office and Kingman Police Department reported the following arrests for the week of Sept. 21:
Traffic offense, dangerous drugs, warrants
Kingmanites Amy Marie Schroeder, 49, and Sasha Nicole Baker, 30, were arrested by the Kingman Police Department at about 9:50 a.m. Sunday when a patrol stop for a traffic offense allegedly revealed possession of narcotic drugs.
KPD reported a vehicle driven by Schroeder was stopped for a traffic offense in the 2000 block of Airfield Avenue on Sunday, at which time police discovered her license was suspended. Baker reportedly tried to give officers a false name to avoid the discovery of arrest warrants. She had misdemeanor warrants for failure to appear and probation violation.
Both Schroeder and Baker were found to be in possession of narcotic drugs and drug paraphernalia.
Schroeder was arrested on felony charges of possession of narcotic drugs, possession of drug paraphernalia and misdemeanor driving with a suspended license. Baker was arrested for possession of narcotic drugs, possession of drug paraphernalia and the misdemeanor warrants.
Both were booked into the Mohave County jail.
Injury crash, possible DUI
Charges are pending after Kingman police investigated a two-vehicle crash that occurred at 8:30 p.m. Friday in the 1700 block of Stockton Hill Road, in which law enforcement says alcohol and the excessive speed of one driver, 63-year-old Kingman resident Robert Lee Smith, are believed to be factors.
KPD reports that Smith, the driver of a blue Ford Ranger Truck, was traveling northbound on Stockton Hill Road at a high rate of speed when the vehicle crossed the roadway into the path of a southbound Chevrolet truck driven by another Kingman man. Smith continued driving his vehicle, which had only three wheels as a result of the crash, until he stopped at the I-40 westbound onramp.
According to law enforcement, Smith showed signs of impairment upon being contacted by KPD officers. He was taken to Kingman Regional Medical Center due to injuries received in the crash and the deployment of the airbag.
The driver and passengers in the Chevrolet truck suffered minor, non-life threatening injuries. Law enforcement believe alcohol and excessive speed on behalf of Smith played a part in the crash. The investigation is ongoing, and charges are pending.
Aggravated assault, criminal damage
Arthur Morgan Martinez, 19, and 18-year-old Damion Jay Harryman, both of Kingman, were arrested by the Kingman Police Department at about 10:40 p.m. Friday following law enforcement responding to a 911 report of a vehicle's occupants shooting at another vehicle.
KPD received a report of occupants in a tan colored Jeep Cherokee shooting at another vehicle while southbound on Stockton Hill Road. The vehicle had last been seen westbound on I-40 from Stockton Hill Road. The vehicle and its occupants, driver Martinez, and passenger Harryman, were stopped on Beale Street and detained.
KPD reports that subsequent investigation revealed the two men were involved in a verbal altercation with multiple subjects at a convenience store in the 3100 block of Stockton Hill Road. The verbal altercation continued at another location, then both vehicles headed southbound on Stockton Hill. At that time, Harryman allegedly fired several rounds from a handgun at the other vehicle. KPD officers have determined the handgun was a BB gun replica of a Smith & Wesson semiautomatic with the orange safety tip removed.
The victim's vehicle suffered damage having been shot several times by BB pellets. Martinez and Harryman reportedly admitted involvement in the incident. The two men were arrested for aggravated assault and criminal damage, both felonies, and booked into the Mohave County jail.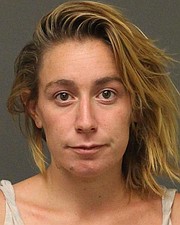 Burglary, theft of means
One of the worst feelings could be returning from a trip and finding out that someone had broken into your house.
For a Golden Valley resident that is exactly what happened.
Mohave County Sheriff's Office Deputies arrested Ashley Kristen Tillmanns, 27 of Golden Valley.
Deputies responded to a call around 10:30 a.m. Wednesday to a residence in the 3600 block of North Glen Canyon Road in reference to a burglary.
The victim advised he had been out of town and when he returned it appeared someone had been inside his residence and that his vehicle was missing.
MCSO deputies observed the bed appeared to have been slept in, a pile of female clothing on the bedroom floor, and several empty can in the trash.
Shortly after leaving the residence, deputies received a call that the stolen truck had returned to the residence and a female was observed inside the vehicle.
Upon arrival, deputies observed Tillmanns walking on the road away from the property and she was detained.
The reporting party advised that Tillmanns pulled up to the residence in his vehicle and observed she was wearing his clothes. Deputies searched the vehicle and located a backpack full of the victim's belongings on the front passenger seat.
Ashley Kristen TIllmanns was arrested for 2nd degree burglary, theft of means, and theft/control of property. She was booked into Mohave County Jail without incident.
Drug possession
Mohave County Sheriff's Office Deputies arrested Mehran Ardebili, 59, of Kingman Thursday after deputies observed a vehicle traveling dangerously close to the vehicle in front of it and accelerating and slowing down frequently on Interstate 40.
A traffic stop was conducted and deputies could smell the odor of marijuana coming from the vehicle. When asked if there was anything inside the vehicle, Ardebili handed deputies two small containers with marijuana inside.
Deputies observed a suitcase on the front seat and in the open front pocket, deputies could see a plastic baggie containing a white powdery substance.
Ardebili was detained and a search of the vehicle revealed 3 grams of marijuana and .7 grams of methamphetamine.
Mehran Ardebili was arrested for marijuana possession and dangerous drug possession. He was booked into Mohave County Jail without incident.
Burglary
Mohave County Sheriff's Officer Deputies arrested David Noah Vanleuven, 46, of Mohave Valley Thursday after an incident that happened on Sept. 14.
Deputies responded to a business in the 6200 block of Highway 95. Video surveillance showed a male subject drive up to the property on an ATV, cut the locks to the property drive inside and remove a large metal stand.
The suspect then attached them to the ATV and drove away. MCSO received many tips in regards to this incident and one led us to a male subject, identified as Vanleuven.
Deputies responded to the listed address for Vanleuven and observed an ATV matching the description of the ATV in the video.
Thursday deputies met with Vanleuven, who admitted to cutting the lock and taking the items from the property, but allegedly said he thought the property belonged to a friend who said he "could take whatever he needed."
David Noah Vanleuven was arrested for 3rd degree burglary. He was arrested and booked into Mohave County Jail without incident.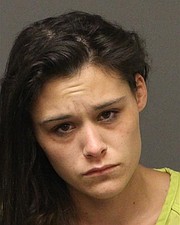 Drug, firearm possession
Mohave County Sheriff's Office Deputies arrested Amber Lee Fragassi, 21 of Golden Valley at approximately 2:50 AM Friday.
Deputies observed a vehicle traveling north on Stockton Hill Road and a records check revealed the vehicle had an expired registration and conducted a traffic stop.
During the traffic stop, deputies made contact with the driver, a male subject, and the female passenger, identified as Fragassi.
Deputies asked both subjects if there was anything illegal in the vehicle, which allegedly belonged to Fragassi. Both subjects were removed from the vehicle and consent was given to search the vehicle.
The search revealed approximately 2 grams of cocaine, less than one gram of methamphetamine, less than one grams of heroin, ten capped and uncapped syringes, and a glass pipe in the passenger side area.
A search of the truck revealed a tan firearm with one bullet in the chamber, more methamphetamine, and a pipe in a backpack.
During transport to the Mohave County Jail, deputies asked if Fragassi had anything on her person before entering the jail. Fragassi advised deputies she had a syringe and a search by jail staff revealed a syringe with heroin.
Amber Lee Fragassi was arrested for dangerous drug violation, two counts of narcotic drug violation, drug paraphernalia violation, carrying a weapon in commission of a felony crime, and failure to admit carrying a deadly weapon. She was booked into Mohave County Jail on the above charges.
More like this story
SUBMIT FEEDBACK
Click Below to:
This Week's Circulars
To view money-saving ads
For as little as $3.49*