Ayton, new-look Suns ready to make noise

Originally Published: September 25, 2018 3:53 p.m.
PHOENIX – It was unfamiliar territory for Deandre Ayton.
As the No. 1 overall pick in the 2018 NBA Draft prepared to speak at the podium during Phoenix Suns Media Day, the rookie had a question of his own for a staff member – "Do I do this next year, too?"
It was just a small glimpse inside the mind of one of many new additions on a Suns team that will be led by first-year head coach Igor Kokoskov.
"Since I'm starting something new, I have to adjust to the strengths that we have," Kokoskov said. "There is no perfect team. Every team in the world in any sport has weaknesses and strengths. Your job is to emphasize the strengths. We have a lot of tools, a lot of weapons and a lot of things that I myself as a coach can plan and use."
Photo Gallery
2018 Suns Media Day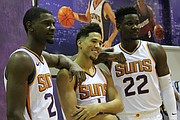 The Phoenix Suns hosted Media Day Monday on the Annexus Practice Court at Talking Stick Resort Arena. Photos by Beau Bearden.
Ayton leads the arsenal of Phoenix's weapons after the former Arizona Wildcat averaged 20.1 points and 11.6 rebounds during his lone collegiate season.
But the Suns also made sure to stockpile a lot of talent around Ayton, including Trevor Ariza. The 15-year veteran spent his last four seasons with the Houston Rockets, but he compared this Phoenix team to his time with the Washington Wizards.
"You have young, talented players that are trying to find their way," Ariza said. "It's all about how they come together and how fast your team meshes together to all be on the same page."
Ayton also has another wily veteran to look to in 18-year pro Tyson Chandler. The two have already spent plenty of time together in the offseason, including working on their endurance.
"There's times where we scrimmage and we're very tired, but he wants me to keep attacking him on the glass," Ayton said of Chandler. "Don't ever stop – keep posting up strong, keep talking to my guards and just being more confident in anything that I say to my guards."
One of Ayton's options will be someone who was in his position last year – Josh Jackson. The former Kansas star averaged 13.1 points and 4.6 rebounds last year, but he's focused on stepping up his overall game during his sophomore season.
"Defense wins games," Jackson said. "Nobody is going to win games without playing D. I take pride in playing D. I like locking up my man, I like being able to say he didn't score on me. I take pride in that. My identity for our team this year is just going to be that guy that brings the energy on both ends of the floor – offensive and defensive."
While Jackson searches for his role with the Suns, another young star has already found it. Devin Booker made sure he won't be going anywhere after signing a five-year, $158 million contract extension.
"To be known as the face of the franchise is something that I've put a lot of work into and prepared myself for," Booker said. "I want to represent this city, this franchise and this organization to the best of my ability. I try to do that every day I wake up. I come in here and I know I'm not only representing myself and my last name, but an entire city."
More like this story
SUBMIT FEEDBACK
Click Below to:
This Week's Circulars
To view money-saving ads
For as little as $3.49*