Originally Published: September 25, 2018 6 a.m.
Related Stories
https://kdminer.c...">Judge to rule on Blanco motions after trial's opening statements
The jury is expected to be selected Tuesday morning for the first-degree murder trial of Alfredo Gerardo Blanco, accused of killing real estate agent and rental property owner Sidney Cranston in 2015, with opening statements to come sometime in the afternoon.
In a final hearing Monday afternoon, Mohave County Superior Court Judge Rick Lambert said he would take up motions in limine at the end of the day.
KINGMAN – Sidney Cranston was wearing a gray ball cap, blue jeans, white T-shirt and tennis shoes when he went missing June 16, 2015, leaving his motorcycle at a home on Club Avenue to go check on a septic problem at a rental property he had purchased.
What happened between that day and the discovery of his body buried on a ranch east of Kingman 19 months later will be at the center of the first-degree murder trial that starts Tuesday with jury selection in Mohave County Superior Court, Judge Rick Lambert presiding.
It's been a long-awaited trial for murder suspect Alfredo Gerardo Blanco, the handyman and property manager who is charged with blowing Cranston away with a shotgun and burying his body on Don Bishop's 240-acre ranch off Wilson Ranch Road.
The defense has filed a number of motions asking for certain evidence to be precluded from the trial, including detectives' interview of Blanco at the rehabilitation center near Phoenix in which he was not read his Miranda rights and was not represented by an attorney. He was only being interrogated and not under arrest.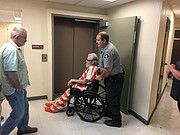 Cranston was a licensed Realtor who worked for broker Dawn Brannies at Kingman Premier Properties from 2010-2014. He was smart and worked full-time at his civil engineering company, Done Right Engineering, going into real estate for investment and sales, Brannies said.
"Sid was very generous with people and wanted to help everyone own their own land or home site," she said. "He would buy up property and then sell it to people with a low down payment and monthly payment so they too could have something to call their own."
Cranston was "quirky," but fun to be around, Brannies continued.
He was friends with her husband, and they would ride motorcycles, shoot pool, go kayaking or just hang around the pool at the house.
He ate healthy and worked hard to stay fit, including a daily cross-fit training regimen. He belonged to the Lions Club and enjoyed square dancing, which Brannies thought odd because dancers were at least twice his age.
"Sid was lonely and looking for companionship, but didn't seem to be able to connect with any local girls," Brannies said.
He bought an old van, fixed it up so he could live in it, even put in exercise equipment, and set off for Mexico. That's where he met Ivette "Luna" Colderon, who would become his fiancé, and it was the happiest Brannies had ever seen Cranston.
"He was working to get Luna a visa to come to the United States so he could introduce here to his friends and family," she said. "Sid was a great person and we miss him."
Cranston, who owned about 43 rental properties, never showed up at a June 16, 2015, City Council meeting in which he was seeking a variance for a sewer line.
Blanco came into question because Cranston accompanied him to In-n-Out Burger to pick up lunch for his kids that day, and he was the last person to have been seen with Cranston before his disappearance.
Blanco, who collected rent and provided maintenance for Cranston's properties, said Cranston was going to show some property about 20 miles north on Stockton Hill Road, and offered to let Cranston borrow his gun, but he declined.
Blanco said he called Cranston several times that afternoon and evening, and got no answer, so he left a message. Cranston was staying with a friend, Bob Carlson, who reported him missing.
One of the clues that led police to Blanco was when he sold two rings to Luchia's jewelry store in Kingman.
Blanco said he had found the rings in a couch at a residence he was cleaning, but jewelry store owner Myron Storing noticed the rings on Cranston's Facebook photos looked like the ones Blanco sold.
Detectives analyzed Blanco's cellphone records in which pings indicated he was in the area of Blake Ranch Road and Wilson Ranch Road on the afternoon of June 16, 2015.
The big break came from a polygraph examination given to William Sanders, an acquaintance of Blanco since 1999 who installs solar screens and exchanged job referrals with Blanco.
During an examination administered by FBI agent Brian Fuller on Jan. 6, 2017, it was determined Sanders was not being truthful in reference to his disposition of Cranston.
During a follow-up interview, Sanders reportedly disclosed Blanco shot Cranston inside a home at the ranch and buried his body behind a shed or barn near the residence.
Sanders showed the burial site to police, and once Cranston's remains were identified, a warrant was issued for Blanco's arrest. Sanders has since pleaded guilty to tampering with evidence and concealment of a dead body and will be called upon as a key witness in the trial.
Cherish Sammeli, account manager at Pioneer Title, had a lot of business dealings with Cranston and came to know him fairly well from attending holiday parties and real estate mixers.
"He was just a very kind person, always willing to talk to whomever, very helpful and super smart," she said. "He spoke to investor groups and gave people inside information on how to invest in real estate for retirement."
She said Cranston was a "free spirit" who would go on weekend adventures. He was outgoing, liked to be around people and always asked how they were doing, Sammeli added.
More like this story
SUBMIT FEEDBACK
Click Below to:
This Week's Circulars
To view money-saving ads
For as little as $3.49*