Kingman Municipal Court will see security improvements

Originally Published: September 30, 2018 6:01 a.m.
Screams, disbelief, confusion and panic; a need to make emotional calls and texts to loved ones who may never be seen again. Those are just some of the emotions that could run through the minds of people caught in the middle of a courthouse shooting.
While they don't happen every day, those events are on the rise in the Unites States. Shootings aren't just a "big-city problem," explained Don Jacobson with the Arizona Supreme Court, who told Council at its last meeting that a shooting is "not something you can plan on, but it's something you can prepare for."
That's exactly what Judge Jeffrey Singer communicated to Council in his request for authorization to implement additional security measures at Kingman Municipal Court.
"Courthouses, they can potentially be a very dangerous place and we need to do all we can to make them safe and secure for the staff, for the public, for everybody involved," Singer told Council.
Jacobson said there were 160 individuals shot in these types of mass shootings from 2000 to 2013. But from January to July 2018, there have been 154 individuals shot.
"This is something that is just part of our society that we have to respond to, we have to deal with," he said. "It is our desire in the courts to have a venue in which individuals can come in, state their case, argue their side, and have a feeling that this is going to be a venue in which it is safe. They don't have to feel threatened, they can have the judges and participants in the process can make decisions without being threatened by either side, either party."
Jacobson then described a shooting that occurred in Van Buren, Arkansas in 2012. James Ray Palmer entered the courthouse looking for the judge who had dealt with his divorce. That individual had more or less free reign of the courthouse in committing a mass shooting in which multiple people were shot. That event hit close to home for Judge Singer, who at the time was working only about an hour away in Poteau, Oklahoma.
He said the event reminded him of the risks that exist in courthouses. A video of that shooting was played for Council at its last meeting, and can be seen at www.kdminer.com.
"Watching a video like that … it was just impactful and just a very stern reminder of what can unfortunately occur in these high-risk places," Singer told The Daily Miner on Wednesday.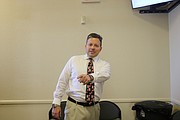 The Arizona Supreme Court created a committee in 2015 that surveyed Arizona courts to determine their standards of security. That study found the majority of municipal courts with metal detectors, 73 percent, were in Maricopa County, Jacobson said.
"Outside of Maricopa County, it was very, very spotty in terms of the type of security that was set forth and held for the municipal courts," he added.
That survey yielded a list of 30 proposed standards for Arizona courts signed into law in 2017. Some of those standards dealt with entry screening, dealing with in-custody defendants, facilities, alarms, training and equipment. Equipment was the focus of Singer's request to Council.
He asked for authorization to use the court enhancement fund to purchase three new pieces of equipment: An X-ray machine ($17,400), magnetometer (about $4,000), and funding for eight additional hours per week so two guards can be at the courthouse every day ($5,000).
The judge told The Daily Miner that "right now we're lacking, right now we are, in my opinion, probably the least-secure courthouse in all of Mohave County because we're the only one that doesn't have this type of security equipment."
But the equipment won't come at the expense of taxpayers.
"I'm not asking for one penny, this is all earmarked out of the court enhancement fund," Singer told Council. "And so when you see what we're trying to get done here and everything, I'm not asking you all for anything other than you approve my use of the court enhancement fund."
Council unanimously approved Judge Singer's request. The judge expects the new equipment to be at the courthouse within a few weeks.
More like this story
SUBMIT FEEDBACK
Click Below to: