Passenger in rear-end accident files complaint against deputy to MCSO

Originally Published: September 30, 2018 6 a.m.
KINGMAN – When the pickup truck Danny Van Pool was riding in as a passenger was rear-ended while waiting for the light to change at North Bank Street on Valentine's Day, the last thing he was thinking about was filing a complaint against a deputy with the Mohave County Sheriff's Office.
Once Van Pool, 62, of Golden Valley, got his hands on the Arizona Crash Report completed Deputy C. Williams, No. 44, he has spent the past months filled with angst while he pondered whether he should voice his concern about some of the glaring discrepancies he found.
Van Pool spent many years as a private investigator in California and is pursuing the same license in Arizona. He has been worried filing a complaint could affect his ability to get licensed in this state. Van Pool does not plan on suing for money.
"I've got a lot of things going on, and I need to go through this like I need a hole in my head," Van Pool told The Daily Miner. "But I have to do the right thing."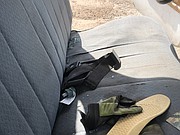 The accident and report
As far as rear-end accidents go, Van Pool was involved in a typical one. He was in a 1989 black Dodge pickup with a steel flatbed. A 2014 Honda Civic crashed into the back of the truck while it was at standstill. The side and headache rack buckled due to the crash, and Van Pool's head snapped back and broke the Dodge's rear cab window.
The Dodge was heading on Bank Street heading north at Northern Avenue. Van Pool said the impact from the Civic drove the truck across the intersection and it came to a rest in the street next to Byer's Liquor and Convenience store, 3019 E. Northern Ave.
The whiplash Van Pool suffered as a result of the collision made him interested in the police report. He was transported from the scene by River Medical to Kingman Regional Medical Center. Since that time, he had neck surgery to replace two discs in his neck.
Once Van Pool could get a copy of the report, he became uneasy. He was told by Deputy Williams' commanding officer, Sgt. M. Ramirez, that the report was due 15 days after the incident. That would make the due date around March 1.
Van Pool inquired about the report March 21, but was not ready then. He reached out to MCSO again March 30 and was told the same thing, and that is when he contacted Ramirez. Van Pool finally received the report April 9.
Deputy Williams noted the Dodge truck Van Pool was riding did not have installed seatbelts, and the Honda Civic was traveling at 30-plus mph at the time of the collision.
Van Pool is also concerned Williams allowed the driver of the Dodge to drive away despite not having a valid license and having outstanding warrants on him.
"He didn't even know who I was until he was at the hospital," Van Pool said. "Deputy Williams asked me if I was him (the driver)."
Williams wrote in his report, "It was found that (the Honda driver) was wearing her seatbelt at the time of the collision. I checked and found all seatbelts in the Dodge were not installed for any occupant."
Williams also wrote he took photos of the vehicles and processed them into evidence. When Van Pool's attorney obtained the photos from MCSO, the only photos provided were of the Honda and not the Dodge. Photos of the Dodge taken by Van Pool and The Daily Miner show aged seatbelts installed and glass from the broken window littered on the bench seat in the cab.
"I told Williams I was wearing my seatbelt, "Van Pool said. "In effect, he's saying I lied to him. I may need another neck surgery, and the insurance could use this report against me."
Van Pool also believes the Honda's speed estimation is way off because of the force needed to buckle the Dodge's steel bed and push clear across the intersection of Bank Street and Northern Avenue.
"It's really not my place to judge, but I believe Deputy Williams should be looked into for dereliction of duty," Van Pool. "If he can get so much wrong on a simple accident report, what's to say there isn't someone in jail or prison because of him?"
MCSO's response
The Daily Miner reached out to Mohave County Sheriff's Office and received the following statement from Sheriff Doug Schuster.
"This complaint is active and under investigation. … We take all complaints very seriously and investigate fully.
"As a whole I think our deputies are doing a tremendous job serving our communities. I always appreciate feedback from the public, both good and bad, in order to continually evaluate our progress and grow as an agency.
I will not be able to speak directly on this matter until the investigation is concluded …"
Editor's note: Changes were made to this story for clarification.
More like this story
SUBMIT FEEDBACK
Click Below to:
This Week's Circulars
To view money-saving ads
For as little as $3.49*