Lee Williams grad Sadie Snay continuing her volleyball journey at West Texas A&M

Originally Published: April 6, 2019 5:30 p.m.
KINGMAN – It didn't take long for Sadie Snay to know West Texas A&M was the right place to continue her volleyball career.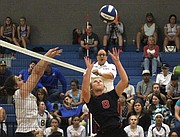 The Lee Williams High School graduate stepped foot on campus and knew instantly she had found her new home.
"I'm 100% excited for next season," Snay said. "I'll be missing my Colby girls so dearly and the family I've made out here, but I am really pumped for what the future holds."
The former Lady Vols setter spent her freshman year at Colby Community College in Kansas where the Lady Trojans finished 27-4 and advanced to semifinals of the NJCAA Region VI Tournament.
Snay will look to carry that success over to a West Texas A&M squad that went 19-13 last year.
However, the Lady Buffs hired alumna Kendra Potts in December and she brings a coaching style that Snay is excited to experience.
"My favorite thing about the program is what they stand for," Snay said. "It is evident that it is one big family that wants to push one another to be better than the day before. Coach Potts emphasizes on pushing yourself and working hard each and every day."
And Potts is just as thrilled to add Snay to the roster and sees a bright future for the Lee Williams graduate.

"Sadie is a talented setter that is capable of running a high level and quick tempo offense," Potts told gobuffsgo.com. "She is also very good at creating offense for herself as well. Being an attacking setter will open up our hitters for more opportunities at the net to find holes to terminate. She has great court sense and also does a great job at vocally running the court."
Snay is up for the challenge too, as she knows she's joining a squad that wants to excel on the floor.
"It's a beautiful school with a really strong and determined volleyball program," Snay said. "That's what grabbed me immediately. I'm unbelievably thankful to be able to go into a competitive and hardworking team."
But Snay is no stranger to hard work and determination from her time at Lee Williams.
She garnered 4A Grand Canyon all-region first team honors during senior year and was a second-team selection during her junior season.
But Snay also succeeded with her club team and she owes a lot to that experience.
"Being from Kingman has taught me a lot," Snay said. "My club coaches worked really hard while I was still in high school to prepare me for college athletics and I believe they do a wonderful job with that."
More like this story
SUBMIT FEEDBACK
Click Below to:
This Week's Circulars
To view money-saving ads
For as little as $3.49*