Prep Baseball: Bulldogs beat River Valley to clinch 3A West Region title

Originally Published: April 20, 2019 6:09 p.m.
KINGMAN – There are few better ways to end a game than with a walk-off hit.
Luke Ness knows that first hand after the senior drove in the game-winning run Saturday to propel the Kingman High School baseball team to a 3A West Region title with a 10-0 victory over River Valley in five innings due to the run rule.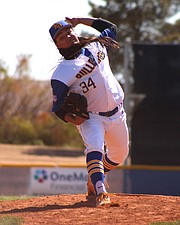 "Region champs – it means everything to me and I'm pumped that I could be part of this team," Ness said. "I love these guys. They are dear to me, especially all the seniors. I grew up playing baseball with these guys since I was 9-10 years old. … I'm going to cherish this moment forever."
It didn't take long for Ness to be bombarded by his teammates who celebrated with a Gatorade bottle shower for good measure.
However, the real Gatorade bath was saved for Bulldogs head coach Chad Baitinger as he was drenched with ice-cold water.
"It's good to have," Baitinger said of the postgame drenching. "I'm not going to complain."
There wasn't much to complain about Saturday as Kingman used a seven-run third inning and Dante Bravo's great outing to cruise to victory. Bravo struck out seven, while allowing just two hits and one walk in five innings of work.
"It means a lot to us," Bravo said of the region championship. "I don't really have words."
Ness, Hayden Tanner and TJ Harviston, all seniors, backed up their classmate's gem as they each drove in two runs.
Ness and Tanner went 3-for-4 at the plate as the Bulldogs racked up 10 hits.
"I'm really happy for my seniors," Baitinger said. "This is four years of hard work. They put in hundreds of hours and I'm just really proud of them."
But the run isn't over yet.
No. 11 ranked Kingman (10-5, 8-2 in the 3A West Region) wraps up the regular season at 1 p.m. Wednesday with a doubleheader against No. 29 ranked Page (6-8, 6-2 3A North Region).
The Bulldogs will then await their seed in the 3A Conference Play-In Tournament scheduled for 4 p.m. Tuesday, April 30.
"This is one of the best baseball teams that Kingman High has ever had," Baitinger said. "They haven't won a (region) championship in however many years. It's been way before I started. So this is huge for the program."
More like this story
SUBMIT FEEDBACK
Click Below to: