Kingman man flees from deputies in a bulldozer
Originally Published: April 30, 2019 2:10 p.m.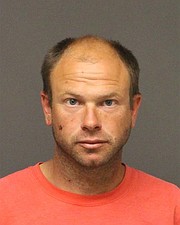 GOLDEN VALLEY – It isn't the hottest vehicle to steal for a joy ride, but a bulldozer sure does get the job done.
Mohave County Sheriff's Office deputies responded to a call at about 3:15 a.m. Tuesday in the area of Bacobi Road and Shipp Drive in Golden Valley regarding a bulldozer traveling on the roads and tearing up asphalt.
Deputies arrested Jeremy James Sterling, 35, of Kingman for two counts of criminal damage, third-degree burglary, theft and unlawful flight from law enforcement, all felonies.
The bulldozer was located in the 3300 block of Bouse Road, and deputies attempted to make a traffic stop, but Sterling refused to comply. As the bulldozer continued, the blade was lowered, creating a trench in Bouse Road and damaging a waterline. Sterling continued on to strike and damage several mailboxes with the blade.
Department of Public Safety Ranger helicopter responded to the scene and continued to track the bulldozer's trail as it went off the road and into terrain that was impassible for patrol vehicles.
Sterling eventually came to a stop at Legend Ranch Road and Oro Vista Lane, and deputies conducted a high-risk stop on the driver.
Sterling was taken into custody and transported to the Mohave County Adult Detention Facility without incident.
Deputies tracked the bulldozer to where it had been stolen from at the Mohave County Roads Department gravel pit. A contractor had been storing the bulldozer there.
Workers from the Mohave County Roads Department responded to the area and began assessing the damage to the roads caused by the bulldozer.
The investigation is ongoing.
Information provided by the Mohave County Sheriff's Office
SUBMIT FEEDBACK
Click Below to:
More like this story