Drones are becoming important tools for projects and businesses

Originally Published: February 11, 2019 7:27 p.m.
KINGMAN – Charles Black of Draco Aerial Solutions says anyone can hop on Amazon and pick out a drone costing anywhere from under $100 to hundreds of thousands of dollars, and with the technological advancements and ever-increasing ways to utilize drones commercially, he expects them to be in the sky for a long time to come.
"We're not your typical drone photographers/videographers," Black said. "We're much more advanced."
Drones are becoming more popular seemingly by the day with photographers, hobbyists and even children jumping on the trend. Drones also have practical uses that allow for time and cost savings for businesses.
Draco performs surveying, orthomosaic imaging, stockpile analysis and more. Orthomosaic imaging, Black explained, is when the drone takes thousands of images that are then stitched together and used with programs like Google Earth. Stockpile analysis assists mines or construction companies with debris removal.
"They've got a big pile of debris they need to get removed off a lot. Well how many trucks do they need? They can either go out and measure it or we can fly over it, run all our programs and it will tell them exactly how much is there," Black explained. "It is very cost saving," he said.
Draco uses its fleet of seven drones, which ranges from drones costing $700 to $10,000, to accomplish those tasks. It also has two more on order, one of which is geared toward surveying. Black said the Phantom 4 RTK drone has a plus or minus error rate of less than a centimeter.
That will come in handy for all of Draco's projects, especially those relating to emergency situations.
"We've done projects for federal, state and local agencies from the West Coast all the way to Puerto Rico," Black said. "We did a lot during Hurricane Irma. They had a lot of roads destroyed, so with the data we were providing them, they could figure out the best avenue of attack to help people."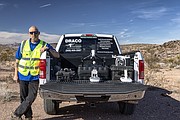 Draco Aerial Solutions is also unique in that it is one of only two drone operators in Mohave County licensed to fly after dark. Black said that process took about a year.
"It's nothing they just hand out," he said.
Draco is in the process of securing an automatic dependent surveillance broadcast ground station. In English, that means the company will know where manned aircraft are at in the sky within 100 nautical miles.
"We'll know their speed, their altitude, their direction," he said. "So it makes us safer."
And as the technological advancements of drones and their commercial uses increase, Draco wants to stay ahead of the curve. That's why the company is working on getting a waiver to fly beyond visual line of sight, and another waiver to fly over people.
But don't be alarmed. Black isn't watching you, and he most certainly doesn't care what you're doing in your backyard.
"When I send up my drones you're going to hear them, I'm not flying at 400 feet, I rarely go up to 400 feet, which is our limit," he said. "You're going to know I'm up there, but I'm not looking at you."
Black thinks the Kingman community, and most communities for that matter, will see even more drones take to the skies in the years to come.
More like this story
SUBMIT FEEDBACK
Click Below to:
This Week's Circulars
To view money-saving ads
For as little as $3.49*