Prep Basketball: Lady Tigers rally late for victory over Wickenburg

Originally Published: January 26, 2019 3:39 p.m.
KINGMAN – It may have been a little too close for comfort, but a win is a win.
This is especially true at this point in the season because a bad loss could hurt a squad's chances at making the state tournament.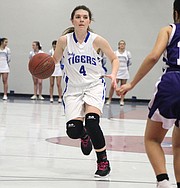 But the Kingman Academy High School girls basketball team avoided that possibility Friday night with a 49-42 victory over Wickenburg at Betty Rowe Gymnasium.
"They stepped up, all of them did," said Lady Tigers head coach Garth Steed. "Vanessa (Blanco) came out and hit two or three really big shots. She kind of opened it up for us and swung the momentum.
"And Faith (Edwards) played well," Steed continued. "Emily (McCracken) played one of her best games of the year other than scoring. She hustled and had three or four assists that really helped."
Ashlee Steed was also instrumental for Academy with a team-high 14 points, while Edwards scored 13 and Amanda Villeso chipped in eight.
Blanco finished with seven points and McCracken added four points to round out the top performers.
"All the girls that we had come into the game, especially in the fourth quarter, really did a good job of stepping in and playing a role," coach Steed said. "It was a good team win."
It was far from an easy victory though.
The Lady Tigers trailed by four points at halftime and by one entering the final quarter. That deficit increased to six points with 4:29 remaining, but Academy responded with a 6-0 run to tie it up.
The momentum appeared to be shifting, but instead it became a back-and-forth battle. That was the case until Blanco nailed a trey at the 2:18 mark to tie it at 42-42.
It was all the Lady Tigers from there as Steed finished the game with the seven straight points to seal the win.
"I told them, 'For the most part, that was a great game,'" coach Steed said. "We hustled, rebounded and there at the end we made our shots we needed to.'"
However, that wasn't the case in the first half as Academy couldn't make a basket and it allowed the 36th-ranked Lady Wranglers (3-11, 2-5 3A West Region) to pull away with an 11-7 advantage in the second quarter.
"We just couldn't hit a shot and that was the difference in the game," Steed said. "Once we started hitting and they were a little bit more patient there at the end. And that really helped too."
The patience paid off for the Lady Tigers as they outscored Wickenburg by a 36-25 margin in the second half on the way to their second straight win.
No. 25 ranked Academy (8-4, 4-2 3A West Region) travels to 35th-ranked River Valley (4-10, 2-5) at 5:30 p.m. Tuesday.
More like this story
SUBMIT FEEDBACK
Click Below to:
This Week's Circulars
To view money-saving ads
For as little as $3.49*