Kingman High's Kearra Tauta prepared for the test of college ball at Copper Mountain

Originally Published: June 8, 2019 5:16 p.m.
KINGMAN – Kearra Tauta proved during her senior year that she had the talent and drive to play at the next level – especially after averaging 11.2 points and 7.8 rebounds per game as the Kingman High School girls basketball team went 16-1 and won a 3A West Region title in 2019.
But there are no guarantees in life and not every athlete gets the chance to play college basketball.
However, sometimes the chips fall in your favor and that's exactly what happened as Tauta will continue her career at Copper Mountain College in Joshua Tree, California.

"It's nice to have the opportunity to go and experience more about what the big leagues can offer you," Tauta said. "Like I said to my other supporters and my family, too – blessings are unexpected. I'm blessed to have this opportunity to go play college basketball and experience the next level."
However, Tauta's journey to this point didn't take the usual route. Copper Canyon head coach Ken Simonds actually reached out to Lady Bulldogs coach Kevin Hubbard in May to ask about the three seniors.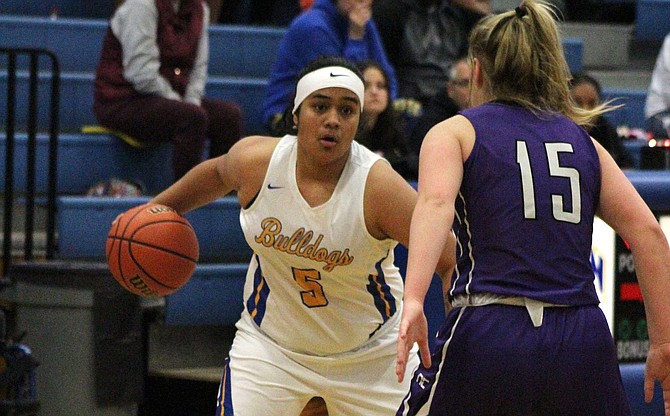 "Coach Simonds saw that we had a good record and those kind of things," Hubbard said. "I said, 'I have one that is still interested in playing.' And the cool part is – this doesn't happen very often – I sent Kearra's highlights from the year and within 25 minutes, he emailed me back saying, 'I think we can do this. I want to sign her.'"
And the rest is history as Tauta becomes the second Lady Bulldogs player from the 2018-19 season that will play at the next level as Sukwana Quasula signed at Northern New Mexico College in Española.
And Hubbard knows Tauta will be in the perfect position to excel.
"It's a great two-year school and no one deserves it more than Kearra – a chance to prove herself and a chance to go play basketball," Hubbard said. "Kearra has always been the first one here and the last one to leave. She was here with the boys team and coach Nick Juby on days where I didn't even know she was here shooting the basketball around – and still is."
But as is the case for any new college student, there will be an adjustment period and Tauta is prepared to take the leap.
"The first few months of college are going to be really tough on me," she said. "But as I'm going along with the year, it's going to get easier for me. And to know I have a coach there, some Polynesians, too, it's going to be really easy to get along and all that. I'm just looking forward to it."
Tauta will still miss Kingman and all the family and friends who were loud during her games, especially the rivalry contests.
However, she is in luck as the Fighting Cacti have some of their contests close to Kingman.
"I know they played in the Valley in Phoenix a couple of times last year, so maybe we'll line it out and we'll be able to see her play a little bit here and there," Hubbard said.
But the Lady Bulldogs won't be the only ones making the trip.
"It's going to be really cool because I have some family staying out there," Tauta said. "And I have them here and it's a three-hour drive so they can come to any of my games."
More like this story
SUBMIT FEEDBACK
Click Below to: