Lee Williams' Zack Tempert taking it to the next level at Embry-Riddle

Originally Published: June 8, 2019 5:15 p.m.
KINGMAN – Embry-Riddle Aeronautical University in Daytona Beach, Florida is more than 2,000 miles away from Lee Williams High School, but Zack Tempert knows the adjustment is just another challenge in life. He believes challenges are good for anyone and is prepared to take the next step as a track athlete for the Eagles.
"I'm not really necessarily nervous, but I'm really, really excited knowing that I will be able to continue on with sports," Tempert said. "Because ever since middle school I fell in love with doing track and I'm just so happy I can continue for at least four more years."
Tempert found out right before graduation that he was accepted to Embry-Riddle and now all of his hard work during his time with the Vols is paying off.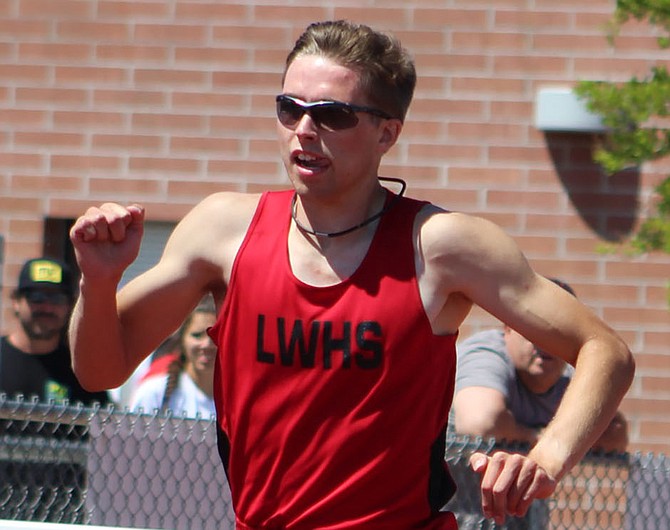 "I'm glad, I'm happy and I do feel – in a way – I deserve this," Tempert said. "But if you asked me four years ago, I never really thought this would happen, honestly. I thought it might have been a little bit too far out of my reach. But as I sit here now, it's not."
And Lee Williams head coach Joan Abraham had all the faith in the world in Tempert, especially after he showed his leadership qualities when his team needed him to step up.
"I know he will be able to do it," Abraham said. "He was very dedicated. He ran during the summer, he helped organize the running during the summer last year and he was out there every day. He did what he had to do. And then he was a leader on the team during the season. He encouraged the kids, he was there talking to them and explaining things."
And that dedication will surely help him as he knows he can immediately contribute for Embry-Riddle next season.
"I've been in frequent contact with the coach since March," Tempert said. "They said I'm sitting in a spot for their varsity team as a hurdler. So I'll be able to go in and score points for the team as we go throughout the season. They said there's a good chance I can go far in my freshman year alone."
But it still won't be easy, as Abraham knows the next level poses some challenges that she and Tempert have gone over since he made the choice to attend Embry-Riddle.
"I think he will be OK," Abraham said. "He is not the best, so I think that will give him a little more determination. But he's also right in the middle of what the rest
of the kids are doing. So I don't think it will be a huge struggle. It's going to be a learning curve, for sure, but I think he will be OK."
And Tempert knows the challenges on the track are just one small part of overall path to become a contributing adult in society.
"This journey itself is a part of everything that I am going to do in life," Tempert said. "Athletics are only a part of life because I'm going to college for college. But I also have the ability and honor to compete in sports alongside my academics."
More like this story
SUBMIT FEEDBACK
Click Below to: