Prep Baseball: Bulldogs, Vols go unbeaten in weather-shortened Big Red Construction Tournament

Originally Published: March 2, 2019 5:07 p.m.
KINGMAN – Mother Nature must not be a fan of baseball.
Photo Gallery
Baseball: Big Red Construction Baseball Tournament - March 1, 2019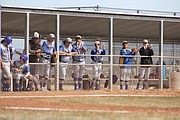 The Kingman High School baseball team started off bracket play Friday with an 8-7 win over Youngker at the Big Red Construction Tournament. Kingman Academy wasn't as fortunate in a 3-0 loss to Lake Havasu. In the final game of the day, Lee Williams battled to a 12-5 victory over Mohave. Photos by Beau Bearden.
The Big Red Construction Tournament was set to conclude bracket play Saturday, but rain put a damper on that and canceled all remaining games – including a semifinal contest between Kingman and Lee Williams.
Nevertheless, Friday was jam-packed full of games in partly cloudy and windy conditions.
The Bulldogs kicked off action with an exciting come-from-behind 8-7 victory over Youngker.
"We were down 6-0, but we had a meeting and our coaches said, 'Get your mind right, let's get in this ball game,'" said Kingman senior Rilee Araya. "The next inning we answered with five runs. After that we came back with clutch hits."
No hit was more clutch than Araya's though.
He stepped up to the plate with the game tied and two outs, but his two-run single gave the Bulldogs a lead they never surrendered.
"It was a great comeback," said Kingman head coach Chad Baitinger. "The kids are executing on both sides of the ball. Sophomore pitcher Coleton Padilla went out there and threw strikes – that's all I asked him to do. I don't care if they hit the ball, we'll make the plays. And we did that. It gave us a chance to win."
Padilla picked up the win after yielding six earned runs on five hits with a strikeout and a walk in four innings of work.
Daniel Oliver led the Bulldogs with a 2-for-2 performance, highlighted by two RBI and two runs scored. Araya also drove in two runs, while Padilla, Luke Ness and Hayden Tanner each tallied a RBI.
Meanwhile, Lee Williams had to battle some adversity as the Vols yielded six walks and a hit-by-pitch in the second inning against Mohave.
The T-birds capitalized with four runs to take a 5-4 advantage, but Lee Williams quickly responded in a 12-5 win.
"It was nice to see us persevere through a critical time in the game," said Vols head coach Patrick O'Boyle. "We could have easily let that get away from us, especially when everything is not going your way. … But we did a nice job battling and the team really picked up after one another. And that's what I was thrilled about seeing today."
The Vols used that teamwork mentality to take the lead in the bottom of the second inning as Justin Talk and Robert Paulson reached base to put Mike Bathauer in prime position as he drove in Talk to tie the game at 5-5.
Lee Williams wasn't done yet though. Addis Guzman hit a sacrifice fly and Bathauer later scored on a double steal for a 7-5 advantage the Vols never surrendered.

"We're doing a really, really nice job of buying in – not one individual is above the team," O'Boyle said. "We really stress that. And as far as accountability and hard work goes, everyone is battling for each other. If we continue to do that throughout the year, we're going to set ourselves up really nicely."
Kingman Academy didn't fare as well in the tournament, but it didn't help that the Tigers had to meet up with Lake Havasu for the second time in two days.
But even with that said, Academy couldn't find its bats – mustering just two hits in a 3-0 setback to the Knights.
"It's frustrating that we're not hitting the ball," said Tigers head coach Bill McCord. "So there will be some changes coming, but we have a lot of games coming up."
Ryan Hurley and Kaden Bean notched Academy's lone base knocks in the game, while Wyatt Hall took the loss on the mound after yielding two earned runs on four hits with three walks and two strikeouts in 2 2/3 innings.
The Tigers are at Bagdad at 6 p.m. Monday, while Lee Williams hosts Coconino Thursday and Kingman travels to River Valley Friday for the Route 66 Classic.
More like this story
SUBMIT FEEDBACK
Click Below to:
This Week's Circulars
To view money-saving ads
For as little as $3.49*