Prep Tennis: Vols notch 5th straight victory with sweep of Cactus

Originally Published: March 6, 2019 5:48 p.m.
KINGMAN – There's no question that a strong start to the season can pay dividends and lead to success.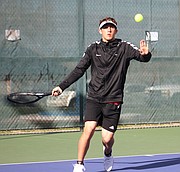 The Lee Williams High School boys tennis team won't deny that, especially after tallying its fifth straight win Tuesday with a 9-0 sweep of Cactus at Centennial Park.
"It's awesome to start the season like this – we're rolling," Vols senior Jordon Freeman said. "As a team, we really have the momentum and I don't see it stopping anytime soon."
Freeman proved that in his match at No. 2 singles as he easily dispatched Cactus' Troy Pagone by scores of 6-0, 6-0.
Classmate Kade Juelfs was also victorious against Cole Goodwin 6-0, 6-2 at No. 1 singles and was glad to be finally be back at Centennial Park after early-season matches were rescheduled to the weather.
"It felt really good because we travel all over the place and playing a home match is really good," Juelfs said. "It's nice having all these kids here."
The same can be said of Lee Williams' roster as four singles players are back in addition to a couple of freshman that are receiving lessons every day.
"It is good chemistry – that's what every team needs," Juelfs said. "We're bonding with each other and we all enjoy practice and playing against each other."
Logan Preston is one of those freshman and he notched a 6-1, 6-4 victory over Joseph Chavez at No. 5 singles, while Logan Rosenbach took care of business against Luis Gil 6-2, 6-2 at No. 3 singles.
At No. 4, Vols junior Carson Taylor beat CJ Schlieker 6-0, 6-1 and Lee Williams' Chase Camacho was also victorious at No. 6 with a 6-1, 6-0 victory against Blake Downing.
"This program is set up to be highly successful for a long time," said Vols head coach Adam Cvetich. "We have a great feeder here in town that's able to give into our program. All of our kids are working hard."
But Lee Williams knew it needed to put in maximum effort after setting some high expectations before even taking the court. The Vols (5-0) will look to keep it rolling at 3:30 p.m. Thursday against Mingus (3-0) at Centennial Park.
"We were looking at our schedule and we realized that it was a realistic goal to start off 6-0 before hitting our spring break," Cvetich said. "We're one match away from achieving that goal."
Girls Tennis
Lee Williams 9, Cactus 0
At Cactus, the Lady Vols continued their strong start to the year Tuesday with a 9-0 sweep of the Lady Cobras.
At No. 1 singles, Macie Wilson tallied a 6-0, 6-0 victory over Megan Higuera, while teammate Paige Cody dispatched Brenny Yantas 6-0, 6-2 at No. 2.
Meanwhile, it was a clean sweep for the three Lady Vols seniors at Nos. 3-5. Faith Nielsen defeated Nailea Rodriguez (6-1, 6-0), followed by Gabriela Villar with a 6-1, 6-1 win over Samantha Paredes.
Kaylee Morley capped the senior victories at No. 5 as she beat Lane Mathews 6-0, 6-2.
Lee Williams junior Arden Schickner rounded out singles action with a 6-1, 6-4 victory over Jenna Smith at No. 6.
The Lady Vols (4-0) travel to Mingus (2-2) at 3:30 p.m. Thursday.
More like this story
SUBMIT FEEDBACK
Click Below to: