Prep Baseball: Bulldogs end season with 1st-round setback against Northwest Christian

Originally Published: May 4, 2019 6:30 p.m.
SURPRISE – The seven Kingman High School baseball seniors took the field Friday hoping it was not their last time together.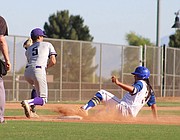 Unfortunately, that was the case as the special season came to a close with a 6-2 loss to Northwest Christian in the first round of the 3A State Tournament.
"I love the boys," Bulldogs coach Chad Baitinger said with tears in his eyes. "I'm going to miss them."
No. 8 Kingman put up a valiant effort, but couldn't battle its way out of an early deficit.
Nevertheless, that didn't take away from all that the Bulldogs accomplished, highlighted by a 3A West Region title and an automatic bid to the 3A State Championship.
"It was a great season – one of the best in Kingman High School history," Baitinger said. "People are going to be talking about them for years to come. I've invited all seniors when they finish college to come be on my coaching staff."
That special bond was apparent as Baitinger took the time to hug each senior one final time following his postgame speech.
That moment was even more difficult after a tough loss to region foe Northwest Christian. The ninth-seeded Crusaders scored a pair of runs in the first and second innings for a 4-1 advantage they never surrendered.
However, the Bulldogs didn't help themselves by finishing with just two hits – a triple by Dante Bravo in the second and a single by TJ Harviston in the third.

"The offense didn't click for us today," Baitinger said. "When we did hit the ball, it was right at them. That's the way baseball goes. We were mentally prepared, we just didn't have enough today."
Rilee Araya did all he could to keep Kingman within striking distance as he allowed one earned run on three hits with six strikeouts and no walks in 5 1/3 innings of relief. Bravo started the game, but lasted just 1 2/3 innings with five walks.
"That was one of my decisions – to start him," Baitinger said of Bravo. "He couldn't find the (strike) zone, so I had to go to Rilee and Rilee executed well. He kept us in the game, but we just didn't score enough runs."
More like this story
SUBMIT FEEDBACK
Click Below to: