Prep Track: Cardiff takes 6th in high jump at state

Originally Published: May 4, 2019 6:34 p.m.
MESA – Drew Cardiff's journey to the Division III State Track and Field Championship was full of ups and downs.
The Lee Williams junior missed two and a half weeks of competition due to an IT band strain, but still qualified for the postseason and just missed out on a state title Friday at Mesa Community College.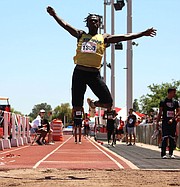 It doesn't appear that way based on his sixth-place finish, but his leap of 6-feet, 4-inches wasn't far from the top finisher.
Snowflake's Nathan Kay cleared 6-feet, 6-inches to win it all, while all the other competitors were at 6-feet, 4-inches.
Lee Williams senior Diego Narvarte was 11th (6-feet) and A.J. Herrera took 21st at 5-feet, 10-inches.
Meanwhile, Kingman High's Jamal Cash took third in 110-meter hurdles at 15.35 on Saturday after improving his 15.42 in Friday's prelims.
Lee Williams senior Enzo Marino was sixth at 15.80, a minor increase from his 15.69 in the prelims.
In other Friday action, Lady Vols senior Sadie Serrano finished eighth in the long jump with a leap of 16-feet, 1.25-inches while Lillian Rapp was 14th in the 100-meter hurdles at 16.84 and Bryce Shuffler finished 16th at 17.15. Darleen Bland tied for 13th in the 100 at 13.08.
Cash rounded out local action as he leaped 19-feet, 9.75-inches for 19th in the long jump.
More like this story
SUBMIT FEEDBACK
Click Below to: